4th of July: Where to see parades across LA County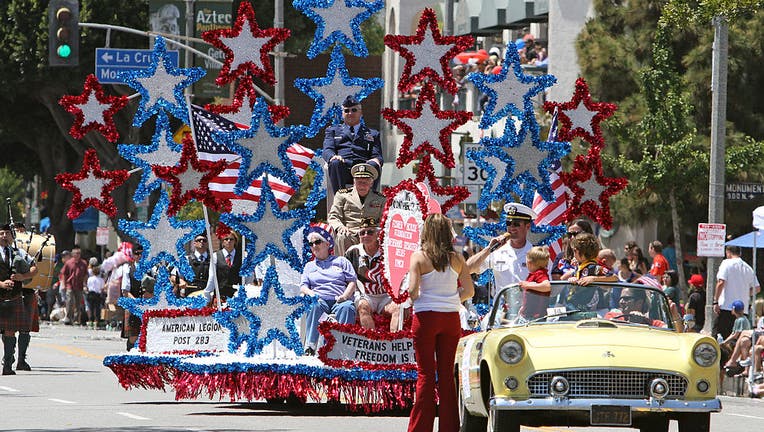 article
LOS ANGELES - The 75th Pacific Palisades 4th of July Parade — with "Diamond Jubilee in 2023" as the theme and Denise Crosby of  "Star Trek: The Next Generation" serving as grand marshal — will be one of numerous parades around the Southland on Tuesday to mark the United States' 247th birthday.
The parade will begin at 2 p.m. on Sunset Boulevard at Via de la Paz with skydivers descending onto Sunset Boulevard.
Air Force Brig. Gen. David G. Smith will ride in the parade. Smith is special assistant to the commanding general, California State Guard and the director of the Air Force Production and Flight Test Facility at Plant 42 in Palmdale.
Meanwhile, Santa Monica's parade will return to what organizers call its "classic route" after a one-year absence.
The parade will begin at Pico Boulevard and Main Street at 9:30 a.m., travel south on Main Street, turn right onto Marine Street, ending at Barnard Way. Its theme is "A Sign of Better Days to Come."
The Santa Clarita Valley Fourth of July Parade will begin at 9 a.m. at the Newhall Roundabout in front of Hart Park and end at Orchard Village Road at Dalbey Drive. Its theme is "Celebrating America's Independence the SCV Way Live, Work, Play!"
Sierra Madre's 4th of July Parade will begin at 10 a.m. at the corner of Sierra Madre Boulevard and Sunnyside Avenue, heading east to Sierra Vista Park.
The grand marshal will be Laura Palmer, a lifelong resident of Sierra Madre who is a fourth-grade teacher at Sierra Madre Elementary School, a member of the Sierra Madre Library Board of Trustees and recording secretary of the Sierra Madre Community Foundation Board of Directors.
The grand marshal is traditionally a person or persons whose efforts over a long period have been beneficial to Sierra Madre.
The parade will be streamed at villagevine.weebly.com.
The Sunland-Tujunga Independence Day parade is also set to begin at 10 a.m. with a flyover by a Los Angeles Police Department helicopter and a motorcycle drill team exhibition. The parade will head west on Foothill Boulevard from Summitrose Street to Sunland Boulevard. Its theme is "Sunland-Tujunga The Beautiful."
The theme of Rosemead's parade is "Celebrating Heroes in Our Community."  The parade along Valley Boulevard between Muscatel and Loma avenues will begin at 10 a.m. and end at Rosemead Park.
SUGGESTED: 4th of July: Here's where you can watch fireworks across Southern California
The Valley Village Homeowners Association Fourth of July Parade will begin at Colfax Elementary School at 10 a.m. and end at Valley Village Park, where the association will provide corn dogs, watermelon, cold drinks and cupcakes.
South Pasadena's Fourth of July Festival of Balloons parade will begin at 11 a.m. at Mission Street and Diamond Avenue, ending in Garfield Park. The opening ceremony will be held at the South Pasadena Library at 10:30 a.m. The theme is "Red, White, and Blue -- Bold Stripes, Bright Stars, and Brave Hearts Too."
Westchester's 23rd annual Fourth of July Parade is scheduled to begin at 11 a.m. on Loyola Boulevard, heading north from Westchester Park to Loyola Marymount University. Its theme is "Ultimate Summer." There will about 50 entries, with Los Angeles County lifeguards as the grand marshal and Los Angeles County Assessor Jeffrey Prang and Los Angeles City Councilwoman Traci Park among the expected participants.
The parade is Westchester's largest event, according to the LAX Coastal Chamber of Commerce, which organizes the parade.
Avalon's golf cart parade will begin at 1 p.m. on Casino Way. Its theme is "A Green Island in a Blue Ocean — Creating a Sustainable Future for Avalon." The USC Trojan Marching Band will be among the participants.
San Gabriel's 4th of July Parade will start at 9 a.m. at Plaza Park, head north on Mission Drive, then east on Broadway, concluding at Smith Park.
The Great American Kids' Bike Parade will begin at 10 a.m. at 1 Granada Ave. on the beach bike path in Long Beach. Participants are asked to consider brining peanut butter or tuna that will be donated area food banks.
The Holmby Westwood Property Owners Association 4th of July Parade will begin at 10 a.m. at Warner Avenue School.