Alleged thieves tried to get away in rideshare after high-speed pursuit: Brea PD
BREA, Calif. - Three suspects accused of raiding a Macy's in Brea Tuesday tried to get away in a rideshare before they were arrested by police. 
According to authorities, the bizarre chain of events began just before noon when someone called to report a suspicious person in the Brea Mall parking lot near Macy's. Responding officers then arrested that man, officials said. 
Around the same time, another call came in reporting an armed purse snatching at a nearby Wells Fargo bank. But when officers arrived there, they could not locate the victim who had called police. 
SUGGESTED:
An investigation later revealed the person who called in the alleged purse snatching incident was the person they currently had in custody from the Brea Mall parking lot, and that person had fabricated the entire thing, officials said.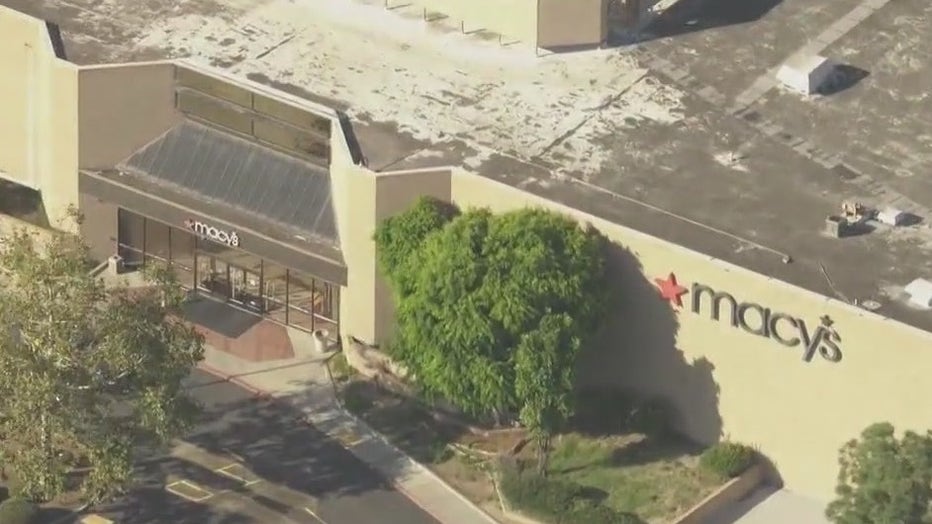 A bizarre chain of events unfolded at the Brea Mall on Tuesday, Sept. 5. (SkyFOX) 
A short time afterward, officers responded to a grand theft at the Macy's. They saw the suspects get into a car and tried to stop the car, but the car sped away and a pursuit ensued. 
Authorities said the pursuit was discontinued, however, due to how recklessly the suspects were driving.
Concerned citizens who witnessed the car, however, called police to report the location of the vehicle and officers were able to track them down trying to get in a rideshare near Laurel Elementary School. Authorities did not specify if the rideshare was an Uber of Lyft.
As a precaution, the school was placed on a temporary lockdown. 
In total, officers arrested four suspects were arrested and linked with the pursuit, grand theft, and fabricated purse snatching call.