Young couple killed after car collides with fire engine in Compton area
LOS ANGELES COUNTY, Calif. - A man and a woman in their 20s were killed after a car collided with a fire engine in the Compton area overnight, Southern California authorities said. 
Officials with the California Highway Patrol said the crash was reported after 12:30 a.m. Tuesday at the intersection of South Avalon and East Compton boulevards in West Compton.
CHP investigators said two cars, including a blue PT Cruiser, may have been racing westbound on Compton Blvd. while the fire truck was traveling northbound on Avalon Blvd. They added the two cars were traveling at speeds over 80 mph in an area with a posted 40 mph speed limit.
Authorities identified the females as 26-year-old Asia Allen-Bookman and 27-year-old Montae Cook.
RELATED: Young mother killed in horrific Compton area crash involving fire engine
Allen-Bookman's family alleges the young couple was being followed and were not street racing. Both victims were wearing seatbelts, according to the incident report.
Authorities said the fire engine was in the process of responding to an emergency and was proceeding through a green light with its emergency lights activated. That's when investigators say the PT Cruiser collided with the fire truck and sent debris flying across the intersection.
The third vehicle fled from the scene while witnesses tried to rush in to help. However, the two people inside the blue car were killed upon impact, the CHP said. 
Four firefighters from Los Angeles County Fire Department Station 95 were taken to Harbor-UCLA Medical Center for what was described by officials as non-critical injuries. All four firefighters were wearing seatbelts, officials said.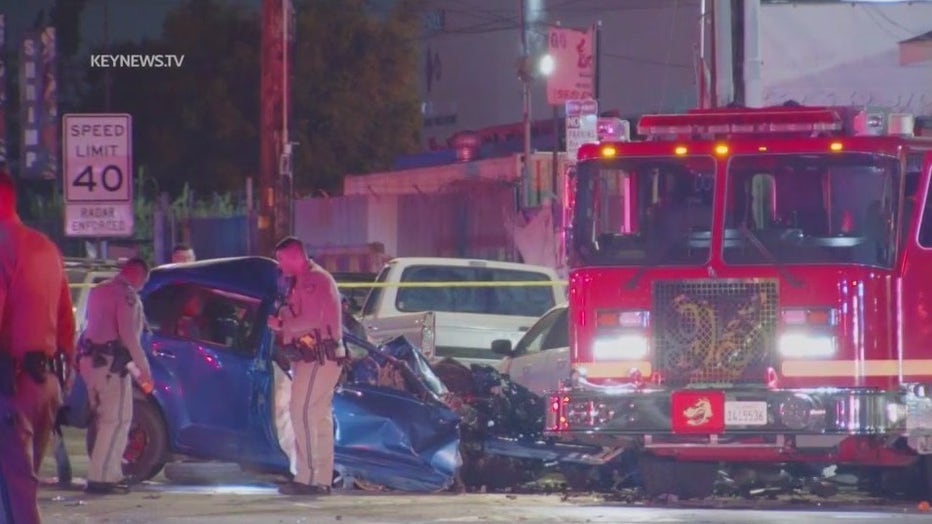 The investigation remains active and detectives continue to canvas the area for clues.