Over 100 allegedly stolen catalytic converters recovered at Victorville 'chop shop'
VICTORVILLE, Calif. - San Bernardino County authorities investigated a Victorville home where they uncovered six allegedly stolen cars and over 100 catalytic converters.
Officials served a search warrant at the residence of Jonathan De Jesus and Melissa Flores Reyes, as they were suspected of harboring a stolen vehicle.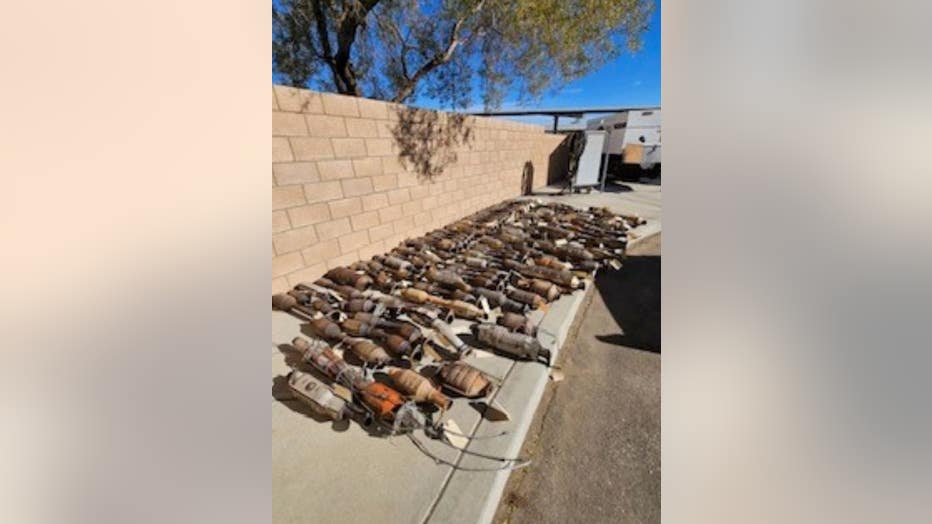 Over 100 allegedly stolen catalytic converters recovered in Victorville (photo curtesy San Bernardino County Sheriff's Department).
The two were booked at the High Desert Detention Center following the recovery of the stolen cars and auto parts at their home "chop shop".
SUGGESTED:
A catalytic converter is a device that helps turn an engine's environmentally hazardous exhaust into a less harmful gas.
The converter is made up of precious metals, some of which are valued at over $17,000 per ounce, according to KITCO.com.
Thieves typically target hybrid vehicles, like the Toyota Prius, because of their cleaner and more valuable catalytic converters. Recycling facilities will typically pay $50 to $250 per catalytic converter, according to the National Insurance Crime Bureau.
Anyone with information on the case is asked to contact SANCATT at (909) 388-4898 or Sheriff's Dispatch at (760) 956-5001. Callers wishing to remain anonymous are urged to call the We-Tip Hotline at 1-800-78CRIME (27463) or you may leave information on the We-Tip website at www.wetip.com.