1 killed after Metrolink train hits car in Sun Valley
LOS ANGELES - One person was killed after their car was hit by a Metrolink train in the San Fernando Valley Tuesday afternoon.
The crash happened around 3:20 p.m. near the intersection of Raymer Street Coldwater Canyon Avenue in Sun Valley, according to the Los Angeles Fire Department. One person was trapped inside the car. Firefighters quickly determined that the person did not survive. The victim was identified as Jesus Acosta Lopez, 57, of Los Angeles.
Images from SkyFOX above the scene showed a large group of firefighters working to get the person out of the car. The car, a blue four-door vehicle, had been severely damaged, and appeared to have been pushed several dozen feet from the railroad crossing.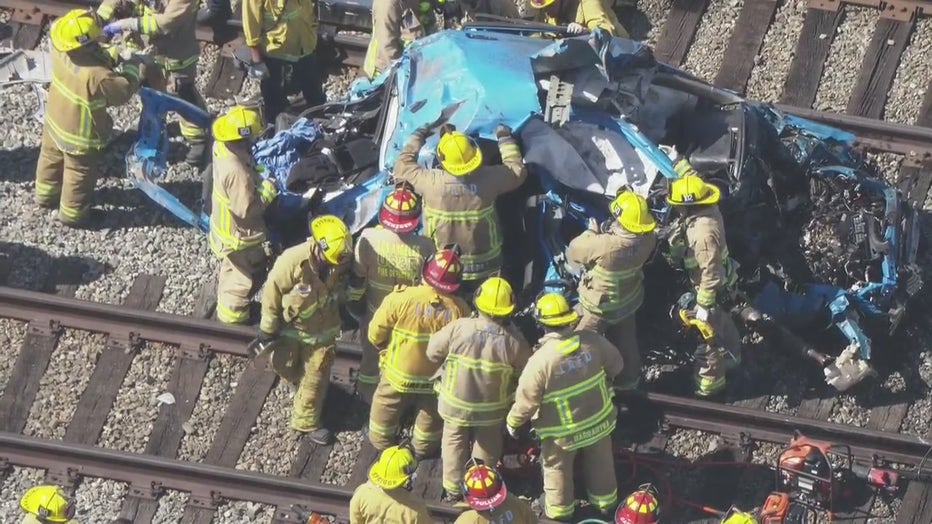 SUGGESTED: Loyola HS baseball player hit, killed by train near San Diego
According to Metrolink, the train that struck the vehicle was heading from downtown Los Angeles to Moorpark on the Ventura County Line.
The tracks were closed between Burbank Airport and Van Nuys due to the crash. There were no immediate reports of any injuries aboard the train.
City News Service contributed to this report.