LA Lakers 2023-24 schedule released: Here are some key dates
LOS ANGELES - All eyes will be on the Lake Show for the 2023-24 NBA season as LeBron James enters his 21st season and the Los Angeles Lakers aspire to win the franchise's 18th championship.
The Lakers defied the odds and despite a shaky start, they made it all the way to the Western Conference Finals last season. The front office was busy during the offseason, bringing on veteran Taurean Prince, playoff star Gabriel Vincent, re-signing fan-favorite Austin Reaves, and extending Anthony Davis to a historic maximum contract through 2028.
Known to thrive under pressure, the Lakers have over 30 nationally televised games, including a coveted Christmas Day game. On Thursday, the National Basketball Association released a schedule for the upcoming season and below are some key days for Laker Nation: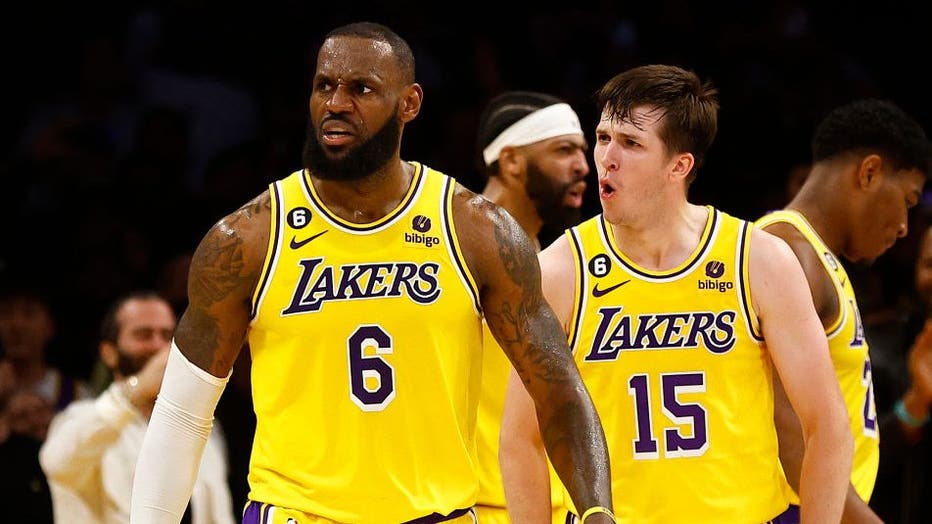 LeBron James #6 and Austin Reaves #15 of the Los Angeles Lakers. (Photo by Ronald Martinez/Getty Images) (Getty Images)
NBA Season Opener
The Denver Nuggets will host the Lakers in a WCF rematch on Tuesday, Oct. 24 (TNT)
Home Opener
The Lakers will open at home in a game against Phoenix on Thursday, Oct. 26. (TNT)
Holiday Games
The Lakers and their longtime rivals, the Boston Celtics, will headline the Christmas Day matchups.
Brooklyn will host the Lakers on Easter Sunday for an afternoon game.
The Lakers will host Oklahoma City on Martin Luther King Jr. Day (Jan. 15).
Big home matchups 
Lakers vs. Clippers on Wednesday, Nov. 1
Lakers vs. Memphis on Tuesday, Nov. 14
Lakers vs. Miami on Wednesday, Jan 3 (ESPN)
Lakers vs. Clippers on Sunday, Jan. 7
Lakers vs. Phoenix on Thursday, Jan. 11
Lakers vs. Denver on Thursday, Feb. 8 (TNT) and Saturday, March 2 (ABC)
Lakers vs. San Antonio on Friday, Feb. 23
Lakers vs. Milwaukee on Friday, March 8 (ESPN)
Lakers vs. Golden State on Tuesday, April 9 (TNT)
The Lakers will finish the regular on the road at Memphis and New Orleans. 
Click here to view the full schedule.
RELATED: Lakers release 2023-24 preseason schedule
Lakers In-Season Tournament
Inspired by NBA Commissioner Adam Silver's admiration for European sports leagues, the NBA will introduce an in-season tournament. For the NBA Cup, the league's 30 teams will be split into six five-team groups. The Lakers are in Group D, along with Memphis, Phoenix, Utah and Portland.
The teams will have an incentive to not only win the games but play their stars since the tournament will be factored into a tiebreaker playoff scenario. There's a financial incentive as well. Each player on the winning team will be rewarded with $500,000 apiece. Players on the runner-up tournament team, along with teams that make it to the semifinals and quarterfinals will get a financial bonus as well.
The championship games, beginning with the quarterfinals, will be played at the T-Mobile Arena in Las Vegas in the fall.
The Lakers in-season tournament schedule is as follows:
Friday, Nov. 10 Lakers at Phoenix (ESPN)
Tuesday, Nov. 14 Lakers vs. Memphis
Friday, Nov. 17 Lakers at Portland
Tuesday, Nov. 21 Lakers vs. Utah (TNT)