Dodgers GM calls Julio Urías arrest 'extremely disappointing'
LOS ANGELES - The Los Angeles Dodgers continue to hold a comfortable lead in the National League West and are just under a month away from entering the playoffs. However, the team is now facing the possibility of persevering without one of their starting pitchers in the lineup.
Dodgers pitcher Julio Urías was arrested earlier this week on suspicion of felony domestic violence.  The incident reportedly involved his wife and authorities said the alleged event happened after the highly-anticipated LAFC game when Los Angeles took on Lionel Messi and the Inter Miami CF at BMO Stadium.
He was arrested by Department of Public Safety officers in Exposition Park for California Penal Code 273.5, which is defined as "corporal injury to spouse."
He was booked into the custody of the Los Angeles Police Department. He was then released hours later after posting a $50,000 bail, records show.
In a statement, the Dodgers said they were aware of the allegations and that Urías would not be joining them on their six-game road trip to Miami and Washington D.C.
On Tuesday, Dodgers general manager Andrew Friedman called the allegations "extremely disappointing" in front of reporters as reported by ESPN.
The organization's leaders continue to figure out options for its pitching staff as the future remains uncertain for Urías with the "Boys in Blue."
"I was shocked – everyone was," Dodgers manager Dave Roberts said before Tuesday's game, ESPN reported.  "It is just an extremely unfortunate circumstance for everyone."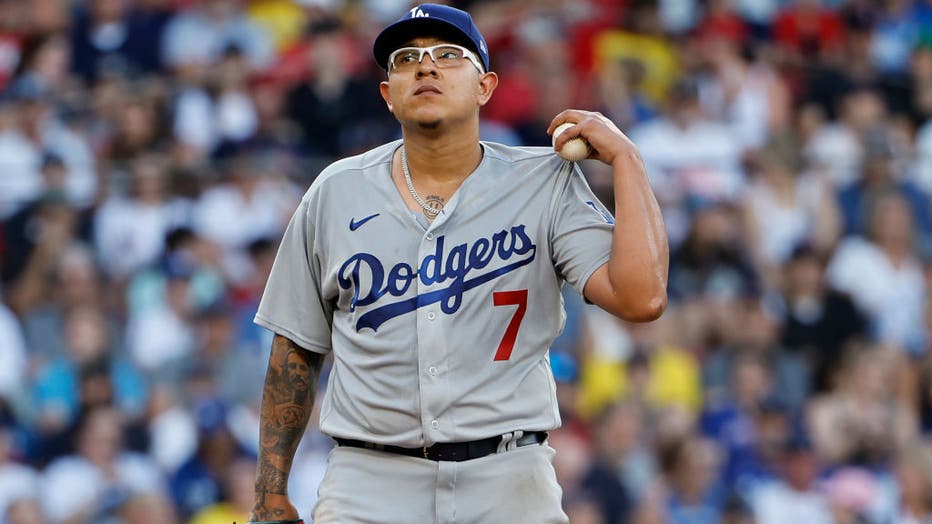 Pitcher Julio Urias #7 of the Los Angeles Dodgers. (Photo By Winslow Townson/Getty Images) (Getty Images)
This comes as the second strike against Urías in four years after he was arrested on allegations of domestic violence in 2019.
For Dodger Nation, it strikes a nerve. In June 2021, former Dodger Trevor Bauer was accused of assault by a San Diego woman. The Pasadena Police Department investigated, and Bauer was then suspended by MLB as they conducted a separate investigation.
The following year, he was suspended for two seasons for violating MLB's sexual assault and domestic violence policy.
In Jan. 2023, Bauer was released by the Dodgers after being reinstated. Bauer is now playing professional baseball in Japan. This summer, he was named an All-Star for Japan's Nippon Professional Baseball league and was named the league's MVP in June.
For Urías, his next start is scheduled for Thursday, Sept. 21 against the Giants.  Coincidentally, it falls on a night meant to celebrate him. That night, fans are set to receive an Urías World Baseball Classic Mexico bobblehead.
He is due in court on Sept. 27.
Exposition Park DPS is handling the investigation. The department is asking witnesses to come forward and those with information are asked to call dispatch at 213-744-7412.