El Segundo all-star team heads to Little League World Series world championship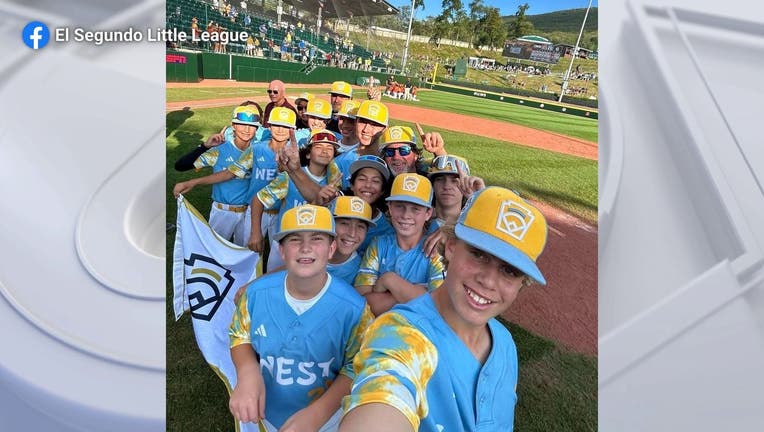 article
EL SEGUNDO, Calif. - The El Segundo All-Star team is advancing to the 2023 Little League World Series Championship after winning the U.S. Championship 6-1 Saturday, over a Texas team that beat them earlier in the tournament. 
The El Segundo team will square off against the team from Willemstad, Curaçao, which won the international championship over Taiwan by a score of 2-0 Saturday. 
El Segundo took the lead after just their first batter, and never looked back, thanks to a Brody Brooks home run to center field in the bottom of the first. That was Brooks' third homer of the tournament, briefly tying him with teammate Louis Lappe for the tournament lead.
PREVIOUS COVERAGE:
But it was Lappe who was all over the box score Saturday. Lappe drove in five runs, including his tournament-leading fourth home run, a three-run shot in the bottom of the fifth inning that blew the game wide open. Lappe also dominated on the mound, striking out 10 over 5.1 innings, giving up just three hits and one run, while walking one. 
Needville scored its sole run in the top of the fifth, as starter D.J. Jablonski led off with a double, advanced to third on an error by center fielder Max Baker and scored on a wild pitch by Lappe.
Saturday's victory over Needville is El Segundo's fourth win in five days, after the team dropped its second game of the tournament to this same Needville team 3-1 on Monday.
El Segundo's world Championship game will be at noon PT on Sunday, while Needville will play Taiwan in the third place game at 8 a.m. PT.
The El Segundo team is the first to represent Los Angeles County in the Little League World Series since 1994, when a Northridge team featuring future USC and NFL quarterback Matt Cassel won the U.S. Championship. 
If they win it all Sunday, El Segundo would be the first LA County team to do so since Long Beach won in 1993.
City News Service contributed to this report.