Dodgers to pay tribute to Vin Scully Tuesday night
LOS ANGELES - The Los Angeles Dodgers will pay tribute to Vin Scully before Tuesday evening's game against the New York Mets, coinciding with the 73rd anniversary of the first regular-season game he broadcast.
A tribute video will be played, members of the late Dodger broadcaster's family will throw the ceremonial first pitch and the first 40,000 fans in attendance will receive a Vin Scully jersey.
Scully's first regular-season game was on April 18, 1950, when the then-Brooklyn Dodgers faced the Phillies at Philadelphia's Shibe Park.
RELATED: Dodgers icon Vin Scully dies at 94
"Don Newcombe was going to be our pitcher," Scully said on a news conference Sept. 24, 2016, one day before the final game he broadcast at Dodger Stadium.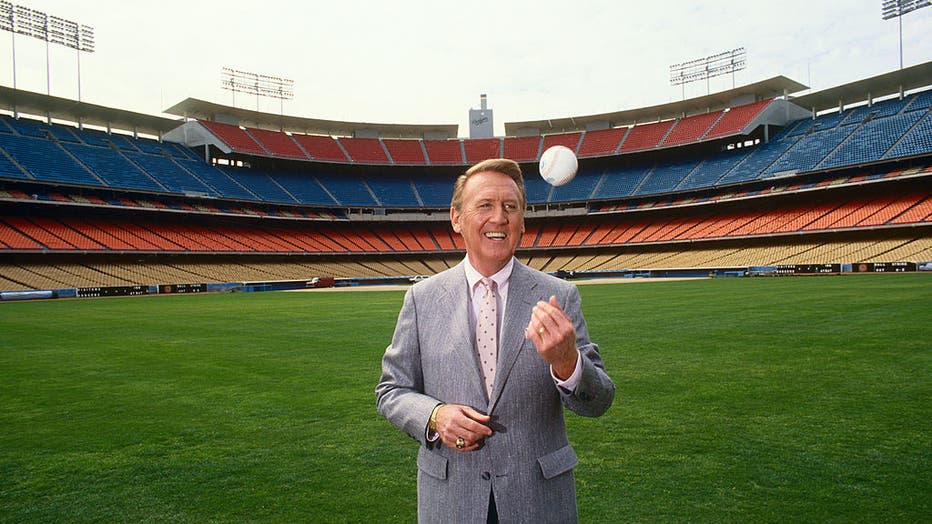 "Red Barber assigned me to do the fourth inning. They didn't trust me more than one inning. I understand that.
"My first game, Newcombe didn't make it to the fourth inning. That's all I really remember, plus the fact I was terrified."