Dodgers' Max Scherzer won't start in crucial "win or go home" Game 6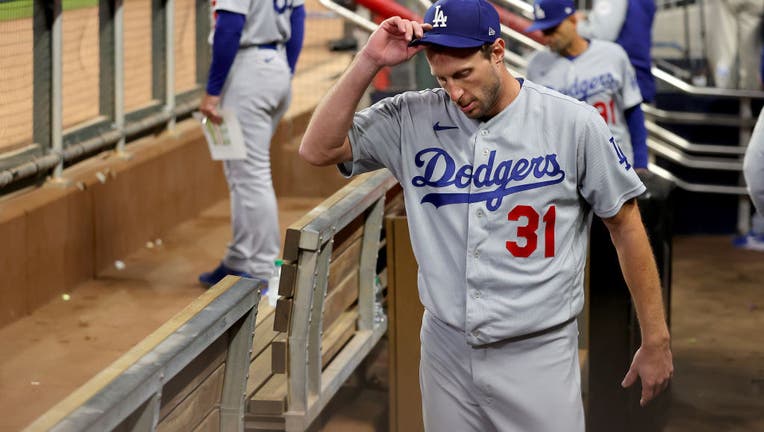 Atlanta's skies are bright blue and sunny this morning, but the Dodgers forecast is now considerably darker since Max Scherzer won't be starting in the must win Game 6 of the NLCS Saturday at Truist Park.  
Scherzer, now 37, admitted, surprisingly to me at least, that he had a "dead arm'' after throwing 79 pitches last Sunday in the Game 2 loss. From what we've all seen of Scherzer, since he came over in a trade that has to be killing him as much as it's killing us, is he's intense and wants the ball.
He's the kind of guy you want by your side when the stakes are highest.  
Scherzer, who's complex salary deal, most of it paid by the Nationals, earns about 30 million a year.
It's games like this one that make him worth that, at least in the hard to believe  money of the sports world, a game that apparently he will now be watching along with Joe Kelly, Clayton Kershaw, Justin Turner and of course Trevor Bauer who is under investigation for sexual assault.
What does Saturday's game mean? It's the proverbial "win or go home;'' a Plan B is Walker Buehler on what is termed ''short rest.''  
Get your top stories delivered daily! Sign up for FOX 11's Fast 5 newsletter. And, get breaking news alerts in the FOX 11 News app. Download for iOS or Android.
When cameraman Julio Duran and I flew in to Atlanta from L.A. yesterday, I counted exactly zero Dodgers fans on the plane. If they were there, they weren't wearing any blue that's for sure and kept quiet. At the airport, I spotted one Dodgers fan who was wearing the World Series cap from last season.
RELATED: 'History is repeating itself': Dodgers fans hopeful for another series comeback in NLCS
Life as a Dodgers fan: Just when you're ready to say goodbye, they do something spectacular
This morning on a walk around the stadium, I saw two more Dodgers fans, we briefly shared despair on the pitching situation and then we moved on. 
There is really no way to predict what will happen tonight, just look at this series so far,  but if Buehler's not effective and the bats remain as quiet as they were in Atlanta in games one and two, the Dodgers are moving on too... see you next spring at Camelback Ranch. 
Of course Chris Taylor could hit four home runs in this one again or anyone else could, or David Price could come off the ineligible list and pitch like the Cy Young winner he was with Tampa Bay half a lifetime ago. Game 7 is scheduled for Sunday at 5:08 p.m.
Tune in to FOX 11 Los Angeles for the latest Southern California news.