Life as a Dodgers fan: Just when you're ready to say goodbye, they do something spectacular
LOS ANGELES - The National League Championship Series is set to resume Saturday in Cumberland, Georgia with the Los Angeles Dodgers playing a second must-win game as they seek to return to the World Series.
The Dodgers avoided elimination Thursday with an 11-2 victory over the Atlanta Braves at Dodger Stadium as Chris Taylor hit three home runs and drove in six runs and AJ Pollock hit two home runs and drove in four runs.
Get your top stories delivered daily! Sign up for FOX 11's Fast 5 newsletter. And, get breaking news alerts in the FOX 11 News app. Download for iOS or Android.
Here's what FOX 11's Phil Shuman has to say about it:
Thoughts from the back of an Uber on the way to Los Angeles International Airport to fly, again, to Atlanta: The Dodgers are exhilarating! We know that, but in a way that a difficult relationship might be. Sometimes you can't figure out what to do, you know you love them… Always have and probably always will… But, they sometimes disappoint you, and just when you're ready to say goodbye they do something great.   
As Al Pacino might say, "just when I thought I was out… they pull me back in." 
Chris Taylor and AJ Pollock did all the major pulling Thursday night in front of more than 50,000 delirious Dodgers fans. Atlanta was shell-shocked. It was one of the most exciting offensive explosions in recent Dodger memory topping even Taylor's walk-off homer against the Cardinals in the wildcard game.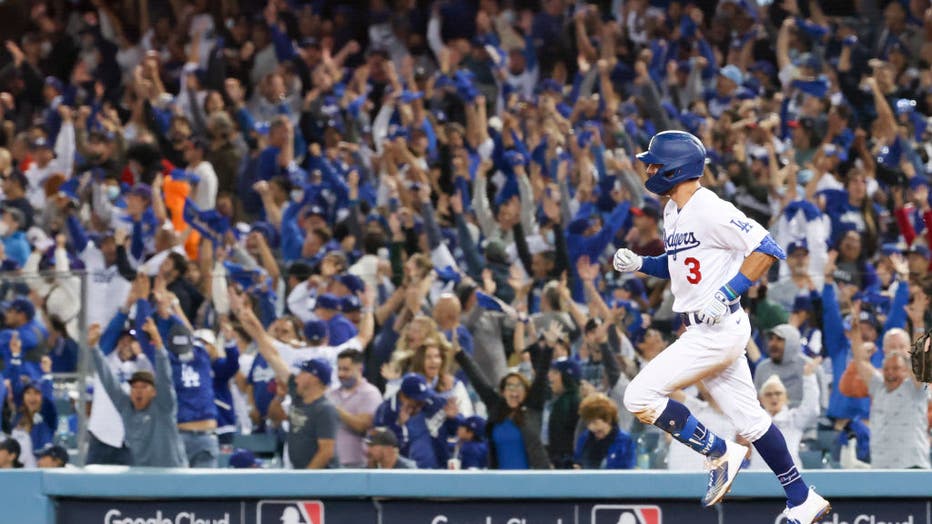 Los Angeles Dodgers' Chris Taylor rounds the bases after hitting a two-run home run during the fifth inning in game five in the 2021 National League Championship Series against the Atlanta Braves at Dodger Stadium on Thursday, Oct. 21, 2021 in Los An
I've spent a lot of time with the fans at Dodger Stadium, in San Francisco and in Atlanta as part of our coverage and let me tell you they are loyal and they have faith and they mean it and it was repaid last night many times over. 
Of course, now we are on the road and have to win two in a row, and Atlanta has been hot, but with Max Scherzer and Walker Buehler rested and are ready to pitch. You have to like the Dodgers' chances!
It's been a fun ride whatever happens. Repeating as champions is very difficult, even if last year was the short 60-game COVID-19 season.  
Dave Roberts has his team believing in themselves and yes, he can be criticized for some of his moves perhaps dictated by front office analytics… but the bottom line is the players have to execute on the field and on Thursday night -- they did. What a night to remember! 
Let's make some more memories this week and more importantly next week. In the meantime, if you are in Atlanta, look for me outside Truit Park with my cameraman, editor, producer, technician, engineer, strategist, partner and friend Julio Duran, a lifetime Dodgers fan. We're usually talking with folks at the Chophouse Gate. See you there. Boarding shortly. 
Tune in to FOX 11 Los Angeles for the latest Southern California news.