Where to get a COVID-19 vaccine in Los Angeles County
LOS ANGELES - Beginning Tuesday, Los Angeles County expanded its COVID-19 vaccine distribution by opening five large-scale vaccination sites. 
The five sites are:
• Pomona Fairplex, 1101 W McKinley Ave, Pomona, CA 91768
• The Forum, 3900 W Manchester Blvd, Inglewood, CA 90305
• California State University, Northridge, 18111 Nordhoff St, Northridge, CA 91330
• L.A. County Office of Education, 12830 Columbia Way, Downey, CA 90242
• Six Flags Magic Mountain, 26101 Magic Mountain Pkwy, Valencia, CA 91355
They will open Tuesday, Jan. 19. According to county health officials, the sites will have the capability to vaccinate approximately 4,000 people a day. 
As of now, Mayor Eric Garcetti says the county is only allowing healthcare workers and seniors living in skilled nursing facilities to get vaccinated. This contradicts Gov. Newsom's statement; on Wednesday the governor authorized counties in California to immediately begin vaccinating residents 65 years and older.
However, Garcetti along with county Public Health Director Barbara Ferrer says there simply aren't enough vaccines to go around. 
Dr. Barbara Ferrer said LA County has about 50,000 appointments available for this week to vaccinate both seniors 65 and older and healthcare workers. Many healthcare workers are ready for their second dose of the vaccination, but there are concerns about the shortage of doses available.  
"We're not yet sure about our allocation for next week which will need to cover those healthcare workers that need their second doses as well as everybody who's ready for their first dose," she said.
Ferrer said the majority of healthcare workers have received their first dose of the vaccination.
"Almost every hospital worker that wanted to get vaccinated has already been vaccinated and tens of thousands of health workers, I understand have already been vaccinated so I think we're well on our way to completing healthcare workers but this [expansion to 65 and older] does allow us to focus on the group that unfortunately has had some of the highest rates of mortality," she said.
Ferrer said she believes there will be more cooperation and transparency from the Biden administration when it comes to vaccine doses for LA County as well.
"The pace of vaccinations is entirely dependent on the doses we receive from the federal government," Ferrer said.
RELATED: Clearing up the confusion: Who can get a COVID-19 vaccine in LA County
The county's priority is to vaccinate healthcare workers, which they plan to complete by the end of January.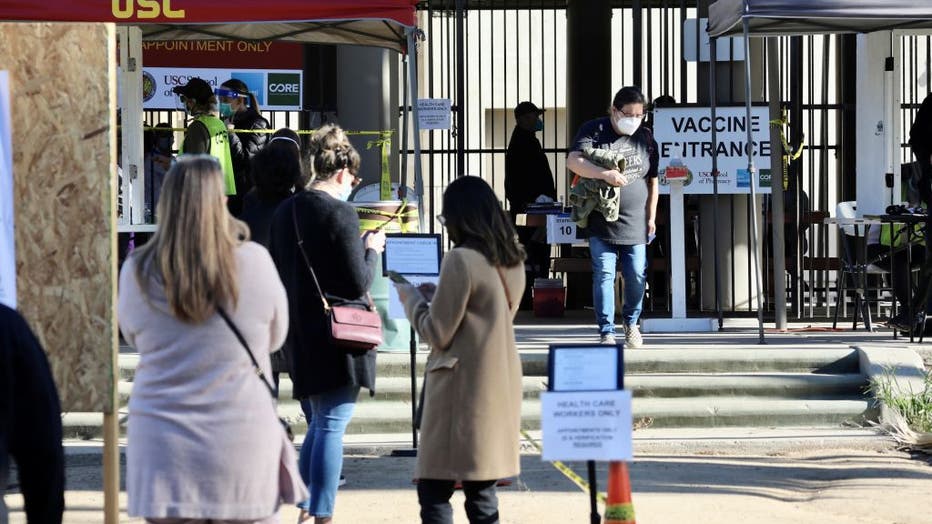 LOS ANGELES, Jan. 6, 2021 -- Health care workers wait in line for vaccinations at a vaccination site in Lincoln Park Recreation Center, Los Angeles, California, the United States, Jan. 6, 2021. (Photo by Xinhua via Getty)
"Getting the vaccine to every resident is our top priority in the fight to end this pandemic," said Supervisor Holly J. Mitchell. "I'm glad to see The Forum— which serves our communities in so many ways— expand from testing to offering vaccine distribution."
"The CSUN site, along with other Mega Points of Distribution (MPOD) sites, will dramatically increase the number of County residents who can be vaccinated each day," said Supervisor Sheila Kuehl.
In addition to these five new sites, a mass-vaccination center opened Friday at Dodger Stadium. Mayor Garcetti says this site is one of the largest in the nation with the capacity to vaccinate 12,000 people a day.
RELATED: Dodger Stadium transforms into COVID-19 vaccination site
Along with these vaccination sites, LA residents can also visit the pharmacy or their doctor's office to receive a vaccine. 
Gov. Newsom said Friday that 1.18 million doses of the COVID-19 vaccine have been administered so far in California.
Eligible healthcare workers must have verification documents, which include a healthcare worker badge with a photo, or a professional license and a photo ID or a signed letter from an employer. The county says residents who are not eligible for a vaccine shot should not attempt to register for a vaccine appointment.
Click here for more information on LA County's vaccine program.
Get your top stories delivered daily! Sign up for FOX 11's Fast 5 newsletter. And, get breaking news alerts in the FOX 11 News app. Download for iOS or Android.