Mugshot released of man accused of plowing into high school students, killing teen boy
THOUSAND OAKS, Calif. - Ventura County authorities announced Wednesday the man suspected of intentionally plowing his vehicle into a group of Westlake High School students in Thousand Oaks, killing one, faces multiple felony charges. He is also wanted for other crimes in Simi Valley and Camarillo.
PREVIOUS COVERAGE: Westlake HS student killed in crash involving Walmart stabbing suspect
"These are some of the worst types of calls we have to go to in our career," said Ventura County Deputy Wendell Campbell in a press conference Wednesday morning.  "Any crimes involving children, especially crimes that appear to be intentional."
Ventura County investigators could not specify why they believe hitting the teens was intentional but are looking into driving patterns, witness statements, and evidence from the suspect's vehicle.
The suspect, 24-year-old Austin Eis, faces the felony charges of murder, attempted murder, assault with a deadly weapon, resisting a police officer, and brandishing. Investigators believe he was experiencing homelessness and was living in his car. Eis is a former student of Westlake High, authorities confirmed. His mugshot has since been released by the sheriff's office.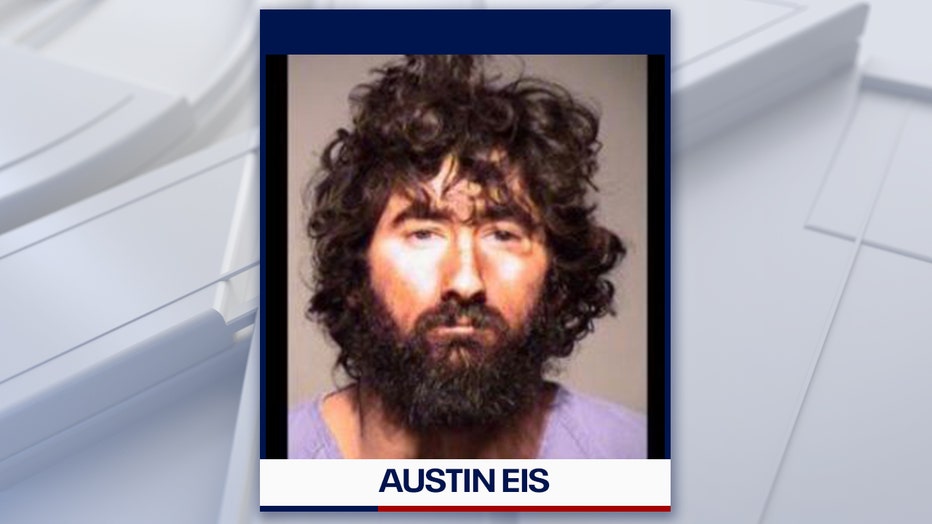 Ventura County officials released the mugshot of Austin Eis, the man suspected in a series of crimes across the Southern California county. (Ventura County Sheriff's Office)
On Tuesday afternoon, deputies with the Ventura County Sheriff's Office were called to an area near Westlake High School and when they arrived, they discovered a white sedan had driven off the side of Thousand Oaks Boulevard and had flipped over.
In the crash, officials said Eis ran the vehicle into four high school students. One of the victims, identified by family members as 15-year-old Wesley Welling, was pronounced dead at the scene. The other three victims – another 15-year-old boy, a 14-year-old girl, and a 16-year-old girl – were taken to an area hospital.
RELATED: 'Everybody loved him': Teen struck by vehicle near Westlake High was waiting for bus with sister
A GoFundMe has been up to cover Welling's funeral expenses.
Sheriff's officials said two of the victims have since been released while one of the teens remains hospitalized in critical condition. Their names have not been released by authorities.
Also on Tuesday, officials revealed that before the deadly crash, Eis was wanted in connection with the stabbing of a Walmart employee on West Cochran Street in Simi Valley.
The Walmart employee is being treated at the hospital, Simi Valley PD officials said.
Walmart released the following statement to FOX 11:
"Violence like this can't be tolerated, and we're disgusted by what happened at our Simi Valley store. Our thoughts and prayers are with our associate for a healthy recovery, and we'll work closely with local law enforcement throughout their investigation." 
Following the alleged stabbing incident, the suspect was also wanted in connection to a possible domestic violence incident involving family members in Camarillo. The alleged domestic violence incident happened after the stabbing, according to officials.
Eis' bail has been set at $5 million and his arraignment is scheduled for Thursday.