Videos: Footwear store and production rental house hit by brazen burglars in Burbank
BURBANK, Calif. - The Burbank Police Department is investigating after two businesses, just miles apart from each other, were burglarized. Department officials said they are looking into the likelihood that the businesses were targeted by the same individuals in both cases.
The Magnolia Park on Magnolia Boulevard, a retailer with footwear and apparel, was burglarized at 1:40 a.m. Thursday. The owner and founder, Miki Guerra, got a call from ADT security and watched the live surveillance video.
"There's actually a lot of people in the store and so I green light Burbank PD to come by," said Guerra.
Guerra met police at the store, but a large group of suspects already left with an estimated $70,000 to $90,000 worth of items.
"We [Guerra and detectives] noticed there were about five cars, at least that I could tell. Two were parked off to the side street, two were parked in the front and then there was this truck that I was later informed was a stolen truck," said Guerra.
The truck was used to repeatedly ram through the front of the store.
Guerra said the store was broken into three times in 2018.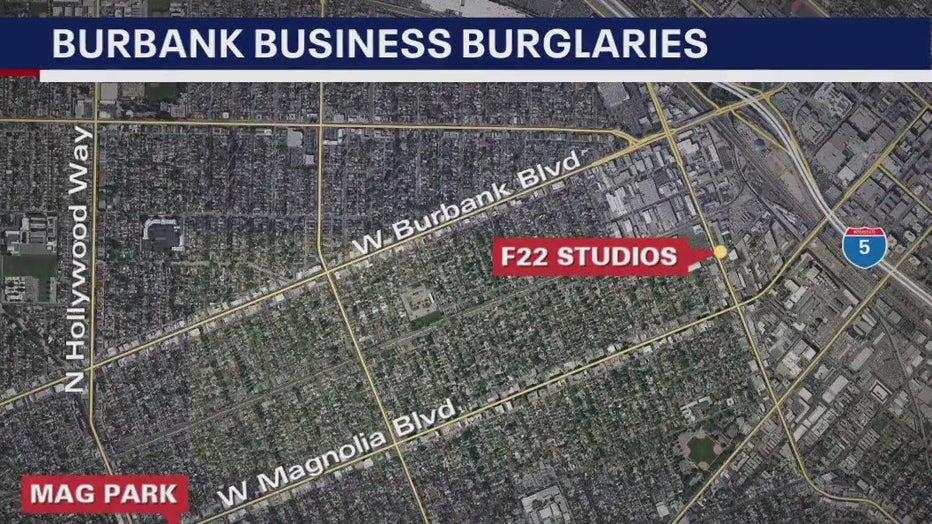 "We learned a lot from that, upped our security, had this scissor gate that deterred everybody for at least four and a half years. I always said to the people that installed it that if someone's gonna break through this, it's going to take a car and I just don't see a car fitting here, but they proved it so kudos to them," said Guerra.
Guerra is maintaining a positive outlook on the burglary. The Magnolia Park's storefront in Burbank is closed for now. The store is still fulfilling online orders and pickup orders, and the storefront in Westfield Topanga is still open for business. 
"We've been going on eight years, and it's like OK, maybe this is a sign for us as an opportunity to give ourselves a new look. It's unfortunate, but it's just a speed bump in what we're trying to do long term," said Guerra.
A few miles away on Victory Boulevard, F-22 Studios, a production rental house was hit by a large group of people Wednesday morning.
"We think there were about 24 assailants from our count, 18 of them made it into the business, and 6 of them remained outside in getaway vehicles," said CEO Lance Bowling.
Bowling said the group worked their way in through a side door.
"We turned the side door into a wall so in the video, you'll see them ripping the door open, and then they're faced with a wall full of insolation. They start ripping the insolation out and then they end up knocking the wall over," said Bowling.
However, the thieves did not get the outcome they desired in this case.
"They get in and it's a Back To The Future-themed sound stage. There's nothing to steal but some Marty McFly and Doc action figures, so we got very lucky they didn't make it into the camera rental house which could have been millions in losses," said Bowling.
Bowling said it is very difficult to get into the rental house due to their heavy security measures there too. They are now adding more following the burglary, including possible armed guards.
"This is extremely scary. We see this as Angelenos happening more and more often. We see these large groups of people going in and doing smash and grabs. It's very scary but luckily we have a good police department here in Burbank and we feel confident these guys will be caught," said Bowling.
The burglary marked the first time Bowling's business was hit, and he hopes it will be the last.
Bowling is offering a $1,000 reward for any information leading to an arrest.
The Burbank Police Department is investigating both incidents.