VIDEO: Nearly naked man tries forcing his way onto school bus on 5 Fwy.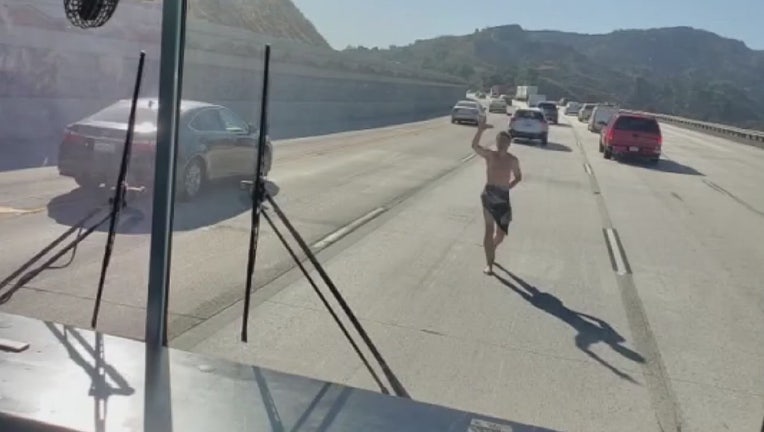 NEWHALL, Calif. - A crazed and nearly naked suspect was trying to force his way onto a school bus in the middle of the 5 Freeway in Newhall.
It was a frightening moment in the middle of the freeway no less. A nearly naked man, pounding on the window of a school bus on the southbound I-5, as it sat in bumper to bumper traffic.  
There weren't any kids on the bus, they had just been dropped off and it was headed back to the yard when the incident happened. 
One of the people on the bus, another driver herself, took out her phone, started recording, and contacted FOX 11.
"I have no idea why he approached us.", she told FOX 11.  
She was going to talk on camera for us for a FOX 11 ''Only One Station'' story, but her boss told her he preferred she didn't.  
Come to find out, the man had just come from allegedly breaking into and vandalizing a church just down the hillside from the freeway in Newhall.  
He had run from there up a hill and onto the freeway where the bus was .  
The pastor told FOX 11,  ''He was yelling, wild... I don't know where he came from, no idea why he targeted us."
Bottom line, no one was hurt, a lot of people were frightened, and given the dangerous times we live in it's fortunate this didn't turn into something worse.  
The 911 calls brought out the sheriff and the CHP.
The suspect, at last check, was in jail, facing at least one felony vandalism count, a man who has a conviction for attempted carjacking in his past.  
What he was doing? Why he was nearly naked ?  We'll have to ask him if we get the chance.