Ventura Fire department getting new comfort therapy dog
VENTURA, Calif. - The Ventura Fire Department introduced its new comfort therapy dog in-training Tuesday. 
Hope is a Labrador retriever and cavadoodle mix. She's on her way to helping provide emotional support for "firefighters, staff and those who have lived through a traumatic experience," according to Ventura Fire.
Hope completed puppy classes in May 2022, as well as Canine Good Citizen certification from the American Kennel Club. She's currently undergoing therapy training, which she's set to complete by December of this year. Once that training's complete, she'll be fully certified to provide comfort to those in need.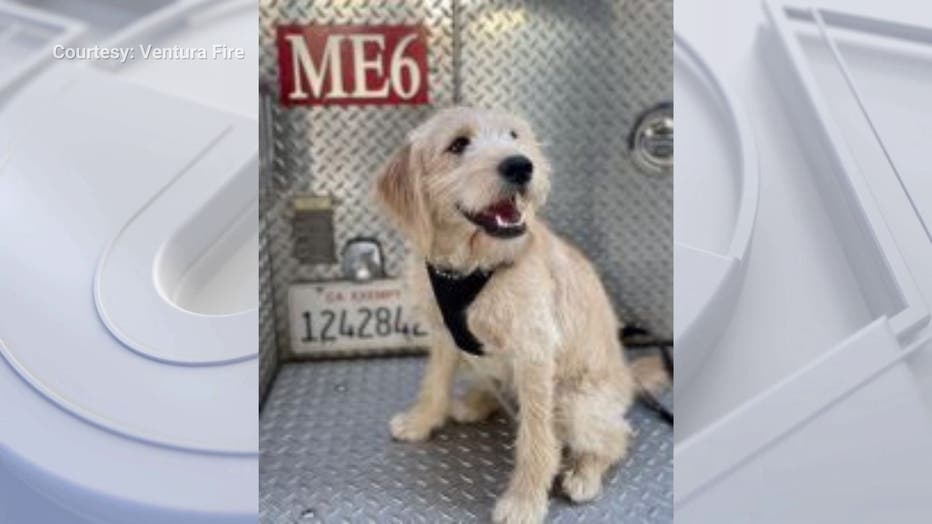 Hope, Ventura Fire's new comfort therapy dog.
SUGGESTED: Seal repeatedly wanders out of ocean to explore snowy Maine town
"First responders face higher rates of post-traumatic stress disorder, depression and anxiety issues related to the volume and severity of tragic incidents they respond to each day," said Venture Fire Chief David Endaya. "I'm thrilled to welcome Hope to our team to help alleviate some psychological trauma impacting our firefighters."
So what kind of services can a potential therapy dog like Hope provide? Once her training is complete, Hope will be able to help firefighters ease tension and lower post-incident stress, anxiety and blood pressure. Hope will also visit other city departments and community events for educational purposes.
"Not having much time to decompress between incidents takes a toll," Heather Ellis, Hope's handler said. "Hope just has a way of breaking the ice and immediately bringing a smile to everyone's face."
Hope was actually a gift to the department from the nonprofit VIP Dog teams, which aims to improve health through human-animal connections.