Ventura County Medical Center activates emergency coronavirus surge plan due to spike in cases
VENTURA, Calif. - Ventura County Medical Center has activated its emergency surge plan after its CEO reported the facility has run out of ICU beds for patients who have tested positive for COVID-19.
On Monday, Ventura County health officials announced there were only 25 ICU beds available in the rest of the county.
In addition, county officials have also reported a recent outbreak in Oxnard.
Ventura County Public Health tracks COVID-19 cases by zip code and currently, Oxnard has the highest number of cases in the area.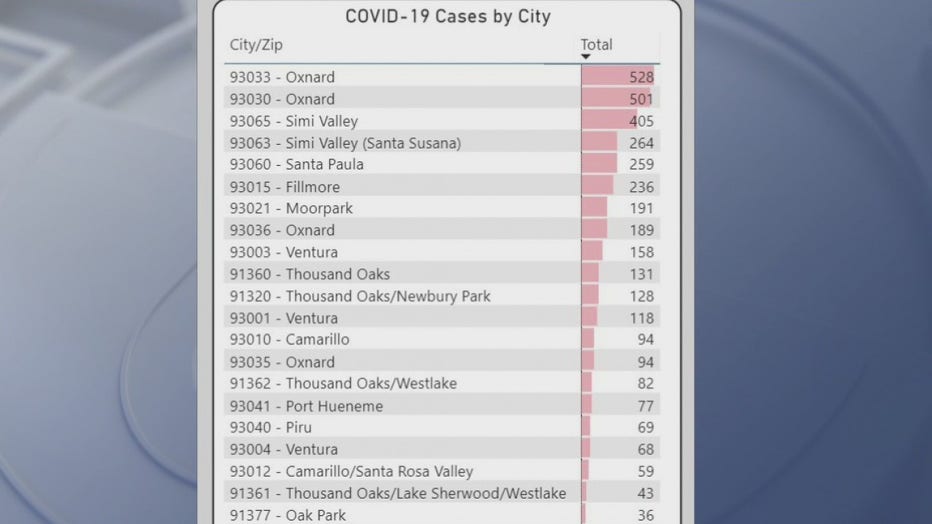 Health officials said 200 farmworkers in the area were recently tested and 188 of them tested positive for the virus.
The farmworkers lived in a dorm-like facility in rooms that accommodate up to nine people. Officials said no more than five farmworkers shared a room, but the virus still spread rapidly at the facility. The farmworkers did not require hospitalization and displayed asymptomatic to mild symptoms.
RELATED: Stay up to date on all coronavirus-related information
The Southern California county continues to see a surge in coronavirus cases, even after officials shut down its beaches for the Fourth of July holiday weekend to prevent crowds from gathering.
However, some residents broke social distancing guidelines and participated in BBQs and other activities with their friends and neighbors.
The county reported 549 new cases from Thursday to Sunday.
RELATED: Interactive Map of Coronavirus Cases
Dr. John Fankhauser, CEO of the Ventura County Medical Center, is concerned there will be another surge within the surge.
Ventura County Medical Center has opened another wing of the facility to treat COVID-19 patients.
However, they are still working to determine how the surge ward will be staffed.
Another concern is the trend of younger people becoming infected with the virus. County health officials reported 60% of coronavirus cases are people aged 44 or younger.
FOX 11's Hal Eisner contributed to this report.
Get breaking news alerts in the FOX 11 News app. Download for iOS or Android.