Unlawful assembly declared as protesters clash during Pro-Trump rally in Beverly Hills
BEVERLY HILLS, Calif. - Over two hundred people gathered in Beverly Hills for a Pro-Trump rally Saturday afternoon.
This is part of a weekly Freedom Rally that has been held at Beverly Gardens Park since late July.
However, today a suspicious device forced Beverly Hills police to move the large group. Police investigated what they say was a suspicious package that was found in the area. They quickly shut down Santa Monica Boulevard between Rodeo and Crescent drives. The bomb squad determined the area was safe at about 4:30 p.m. and reopened to traffic and protesters.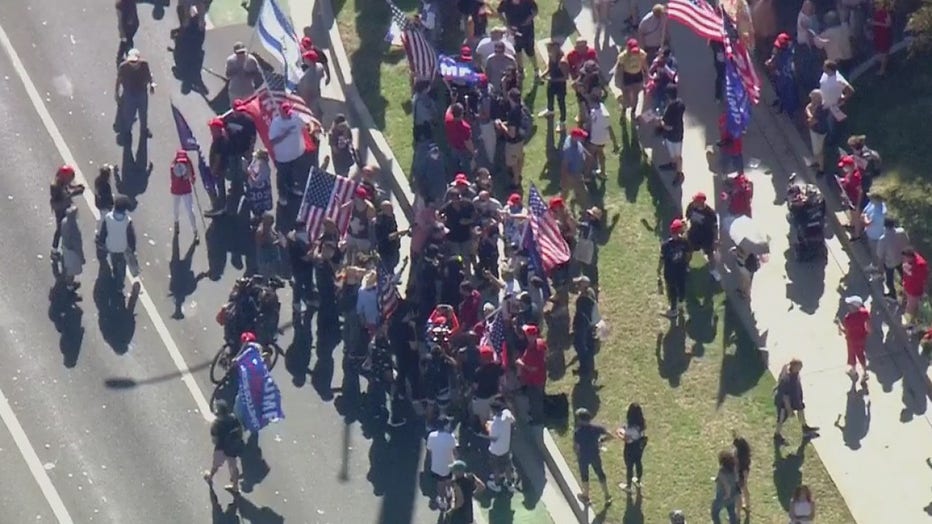 The exact nature of the package was not available.
Until that point, there had been no issues. There was a larger police presence today due to a confrontation that occurred last week between Make America
Great Again supporters and Black Lives Matter protesters.
Today, a handful of counter protesters managed to infiltrate into the group of Trump supporters; police had to step in to separate them.
An unlawful assembly was announced by police and the crowd quickly dispersed.
In comparison to last week, there were a lot less counter protesters but this time they came earlier so there was an order to disperse by police.