Trump campaign selling fake mugshot shirts that make him taller than he actually is
LOS ANGELES - Former President Donald Trump pleaded not guilty Tuesday to 34 felony counts after a grand jury's indictment over hush money paid during his 2016 presidential campaign. 
Amid what was being referred to as an unprecedented time in American history as Trump becomes the first sitting or former U.S. president to face criminal charges, his campaign shared the news that t-shirts with a fake mugshot of the former president were now for sale.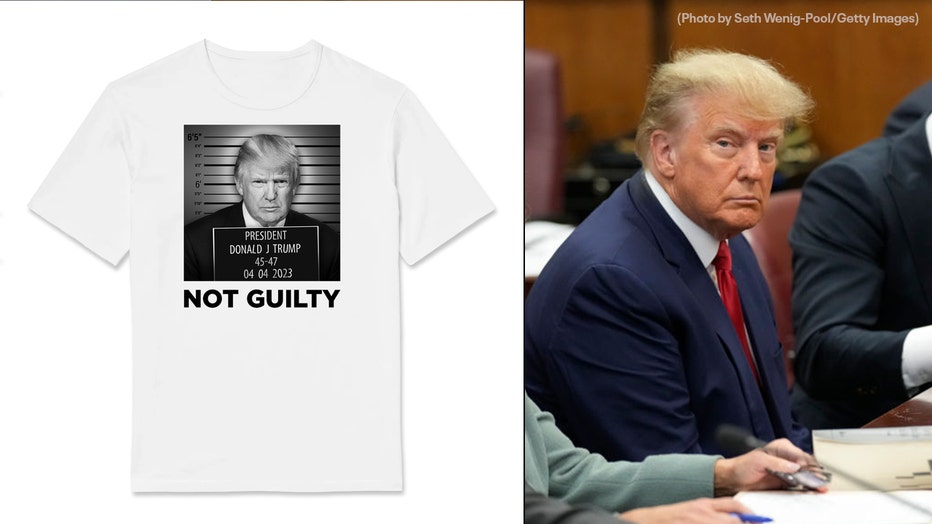 The $47 t-shirts, available on the Trump campaign website, feature a fake mugshot of Trump in black and white along with the words "NOT GUILTY." Trump is seen against a height chart backdrop, which apparently also makes him several inches taller than he actually is.
Those on the Trump campaign mailing list were asked to contribute at least $47 to his 2024 campaign in order to get one of the shirts for free.
This isn't the first time Trump has used such opportunities in an effort to raise money for his campaign.
"He's fundraised off of, remember the NFTs that he was selling, including images of him praying and him as an astronaut and other images of him that were not real? But he's used those to raise money and to kind of, you know, over the years create his own reality… but, you know, in this courtroom right now, Donald Trump is not in charge. And he can't just create his own reality," said FOX 11's Elex Michaelson. 
SUGGESTED:
According to the campaign website, the Trump campaign raised over $4 million in the 24 hours following the announcement of his indictment, with over 25% of donations coming from first-time donors.
Taken together, the 34 charges carry a maximum sentence of 136 years in prison under New York law but an actual prison sentence if he is convicted at a trial would almost certainly be far less than that.
The investigation is scrutinizing six-figure payments made to porn actor Stormy Daniels and former Playboy model Karen McDougal. Both say they had sexual encounters with the married Trump years before he got into politics. Trump denies having sexual liaisons with either woman and has denied any wrongdoing involving payments.
Following his court appearance, Trump plans to return to Mar-a-Lago for a press conference Tuesday evening. At least 500 people have been invited, according to a Republican familiar with the planning and granted anonymity to discuss it. Invitees include members of Congress who have endorsed Trump's presidential campaign as well as donors and other supporters.
A conviction would not prevent Trump from running for or winning the presidency in 2024.
The Associated Press contributed to this report.