Tesla drives into Pasadena pool with 3 people inside, including child
PASADENA, Calif. - A Tesla with three people - including a child - inside crashed into a pool in Pasadena Tuesday morning amid torrential rains and gusty winds due to the latest Atmospheric River slamming Southern California. 
According to the Pasadena Fire Department, it happened in the backyard of a home located in the 700 block of West California Boulevard near South Grand Avenue and La Loma Road. 
Officials said the Tesla driver mistakenly hit the accelerator instead of the brake, driving through a wall then going into the pool.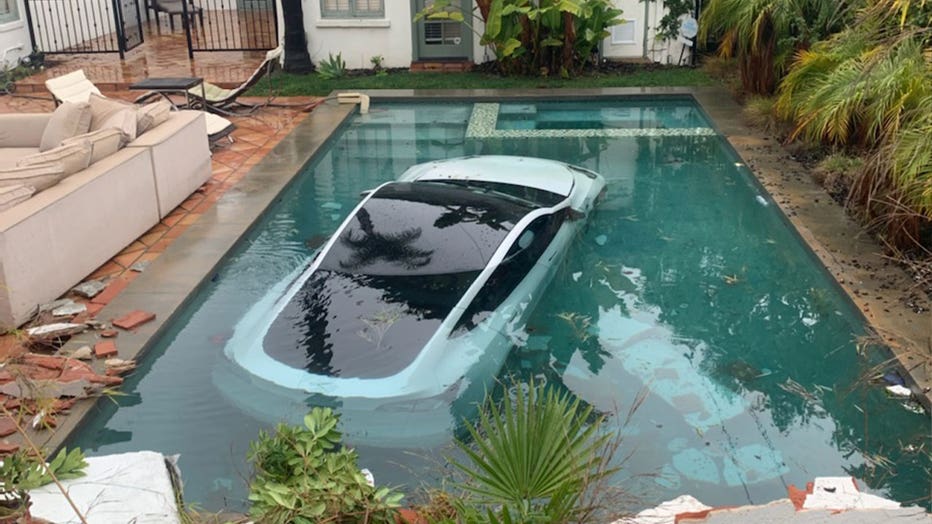 "Good Samaritans jumped into the pool and rescued the occupants," the fire department said. 
Derderian told City News Service that two staff members at a preschool next door to the residence rescued the car's occupants -- two adults and a 4-year-old child.
It's unknown if there were any reported injuries or the current conditions of the three people rescued. 
SUGGESTED COVERAGE: 
On Monday, 18 people were rescued in Ventura after being trapped on an island in the Ventura River.
Later that evening, two people trapped inside a vehicle at the bottom of a large sinkhole were rescued in Chatsworth.
Californians braced as another round in a series of relentless storms hit the Golden State Tuesday, bringing heavy rain, howling winds, and high surf as some residents remained under evacuation orders.