Winter storm brings evacuations, mudslides, flood warnings in parts of Los Angeles, Ventura counties
LOS ANGELES - More rain is soaking Southern California Monday and Tuesday, prompting a flood watch for large parts of Los Angeles, Orange, San Bernardino, Riverside, and Ventura counties.
Flood Watches / Warnings 
According to the National Weather Service, a flood watch means conditions are favorable for flooding. A flood warning is issued when flooding is imminent or occurring, and you should take action immediately.
Flood Warnings:
The National Weather Service issued a Flood Warning for "a large portion of southwest California," including western Los Angeles County, San Luis Obispo County, Santa Barbara County, and Ventura County. The NWS later added another flood warning for "eastern and Southern Los Angeles County." Both warnings will remain in effect until 8 a.m. Tuesday.
Flood Watches:
A flood watch will go into in effect at 2 a.m. Tueday for all of Orange County, the Riverside County Mountains, the San Bernardino County Mountains, the Inland Empire, and the San Gorgonio Pass Near Banning. The watch will be in effect through Tuesday evening, according to the National Weather Service.
RELATED:
Evacuations
Evacuation Order for all of Montecito, including all 15 zones of the Montecito Community, all Toro Canyon & Padaro Lane residents in the Carpinteria-Summerland Fire Protection District & all residents of Sycamore Canyon in the City of SB and Montecito (Evacuation Center is open at the Wake Center, 300 N. Turnpike Rd, Santa Barbara)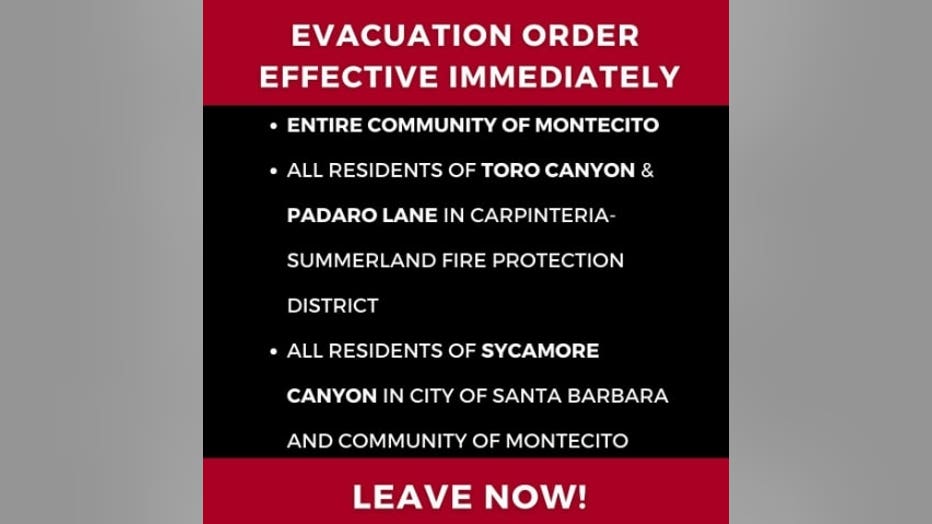 Evacuation Order for Serena Park area in Carpinteria (Evacuation Center at SBCC Wake Center, 300 N. Turnpike Rd.)
Evacuation Warning in effect through Tuesday for the Lake Hughes and Kings Canyon area due to possible mud/debris flows
Evacuation Warning for Ventura Beach RV Resort, 800 W Main St, Ventura
Major Road Closures
Mulholland Drive between Laurel Canyon Boulevard and Coldwater Canyon Drive closed until further notice
The northbound lanes of the 101 Freeway at State Route 33 in Ventura was closed Monday afternoon. The southbound lanes were closed later Monday. The alternate route will be to take SR-126 to I-5. The South
Hwy-101 closed between SR-150 in Carpinteria to Cabrillo Blvd near Santa Barbara
Hwy 154 closed in both directions due to major rock slide
Northbound Hwy 101 closed at Mariposa due to "significant rockfall" in Gaviota
Hwy 192 closed due to several spots with running water
Sycamore Canyon around Westmont College in Montecito
Hwy 150 closed due to rock slide
SR-33 at mile marker 12 due to a rock slide
Topanga Canyon Boulevard between Pacific Coast Highway and Mulholland Highway
All north and southbound lanes of Interstate 5 at Lankershim Boulevard in Sun Valley
Drivers should expect flooding along sections of northbound 101 throughout Summerland and Montecito, with intermittent closures and on/off-ramp closures, authorities said.
School Closures
Authorities recommend schools close Tuesday to limit traffic of students and staff. Check with your local school districts to see if your school will be open or closed.
Airport Closures
The Santa Barbara Airport was closed on Monday due to flooding.
Attraction Closures
Six Flags Magic Mountain announced it will close Monday due to inclement weather.
State of Emergency
The weather has been so relentless, especially in Northern California, that President Joe Biden approved an emergency declaration for California late Sunday night while he was visiting Mexico during the North American Leaders' Summit. He ordered federal assistance to supplement local efforts.  
Biden's action authorizes the Department of Homeland Security and the Federal Emergency Management Agency, to coordinate all disaster relief efforts.
According to the National Weather Service, the most precipitation is expected late Monday and into Tuesday.
Ventura County was hit by heavy rainfall early Monday, triggering a Flood Advisory in the area.
For the Inland Empire, the storm will hit its peak on Tuesday.
The weather service said guidance indicates "good confidence in a strong and powerful storm." Rainfall amounts were on track for 2-4 inches for the coast and valleys, and up to 4-8 inches in the mountains.
On Monday, the National Weather Service tweeted that the storm will be especially powerful in the area of San Luis Obispo County, with wind gusts over 60 mph expected late Monday into Tuesday morning. The NWS expects winds to lead to more downed trees and power lines. 
SUGGESTED:
Temperatures will stay cool throughout the week, with highs in the lower 60s. Overnight lows will mostly be in the 40s and lower 50s, but will drop into the 30s in the mountains and high desert.
Health officials did issue a cold weather alert for Lancaster and Mt. Wilson, where near-freezing or sub-freezing temperatures are expected. The alert will be in effect Tuesday through Friday in Lancaster, and Wednesday in Mt. Wilson, according to the Los Angeles County Department of Public Health.
Partly sunny skies will return Wednesday and Thursday, but more rain is possible next weekend, possibly as early as Friday night, according to the NWS.
CNS contributed to this report.