Tempers flare as hundreds of concerned South LA residents demand answers from Delta Airlines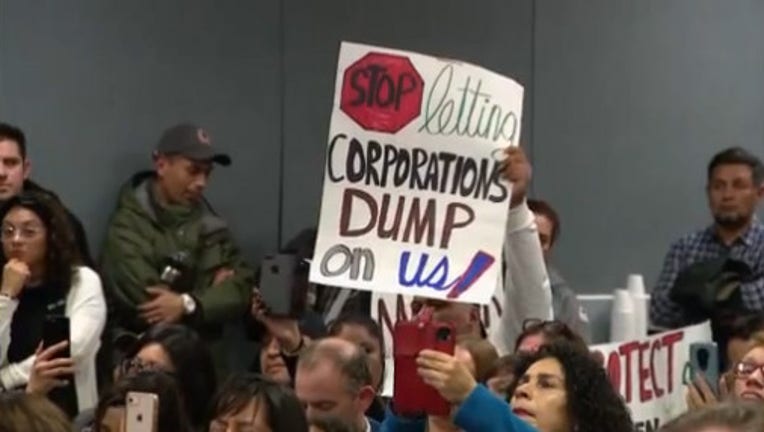 article
CUDAHY, Calif. - Hundreds gathered for a town hall meeting in Cudahy to make their voices heard in response to Tuesday's incident in which Delta flight 89 dumped thousands of gallons of jet fuel across several South LA communities. 
Tempers flared as several community members lashed out at Delta and elected officials... demanding answers.
"This is my community, this is my fight. You will hear me tonight," stated Mark Lopez with East Yard Community.
The meeting was interrupted several times by angry residents.
Related: Teachers who had jet fuel dumped on them, their students file lawsuit against Delta Air Lines
At least 60 people treated after plane dumps jet fuel near several schools in LA area
One of the tensest exchanges took place when a representative from Delta took the podium. The representative read a statement but it provided little comfort to parents of the children who were impacted.
"No one had an answer for me... just wash her hands with soap and water," said parent Nadine Escobar. 
More than 60 people including two dozen children suffered health problems from the jet fuel that rained down on them.
"My daughter has chronic asthma... I have pictures of her and you're going to tell me those rashes are normal," added Escobar.  
One woman told an emotional story about how she believes the jet fuel dump killed her beloved 13-year-old Pomeranian, Teddy.
"I now know that he was in the grass, he probably licked himself and he's dead," exclaimed Georgina Diaz. 
Lawmakers say they are working with Delta and the FAA and expressed concern for short-term and long term health risks.
The South Coast Air Quality Management District (South Coast AQMD) issued a Notice of Violation (NOV) to Delta Airlines. The NOV alleges that Delta Airlines caused a public nuisance in violation of the agency's Rule 402 and a section of California Health and Safety Code Section.
Delta is pledging to help the community as the investigation continues.