Striking hotel workers call on Taylor Swift to postpone LA concerts
LOS ANGELES - The union representing thousands of Southland hospitality workers who are in the midst of a strike seeking higher wages and improved benefits called Thursday for pop superstar Taylor Swift to postpone her upcoming series of SoFi Stadium concerts.
The Unite Here Local 11 union published an open letter Thursday reaching out to the singer.
"Your shows make our hotels a lot of money," the letter stated. "In Los Angeles, hotels are doubling and even tripling what they charge because you are coming. They also add junk fees on rooms, just like Ticketmaster does. Be we see none of it."
"... The hotels are making more money than ever, but we can't afford to live close to work, so some of us sleep in our cars between shifts. Our paychecks are so small many of us are losing our homes."
The letter concludes, "Stand with us and postpone your concerts."
Swift is scheduled to perform five shows at SoFi Stadium -- Aug. 3-5 and Aug. 8-9.
RELATED: 
The union also shared testimonials from some of its striking members, including one who referred to her "tenacity in difficult and painful moments. ... With this in mind, and in tune to our collective love of everything (Taylor Swift), I ask her to honor our struggle and postpone her concerts until our employers agree to a living wage for hospitality workers across Los Angeles."
There's been no public response from Swift.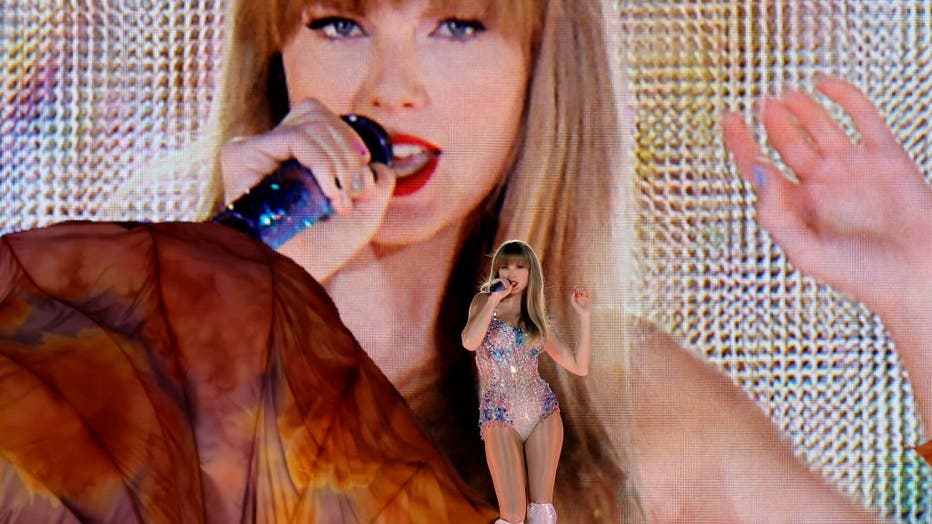 Taylor Swift performs onstage for the opening night of "Taylor Swift | The Eras Tour" at State Farm Stadium on March 17, 2023 in Swift City, ERAzona (Glendale, Arizona). (Photo by Kevin Winter/Getty Images for TAS Rights Management)
On June 8, 96% of the union's members approved a strike authorization. Union officials said a recent survey of its members showed that 53% said they have moved in the past five years or will move in the near future because of soaring housing costs in the Los Angeles area.
Union officials said their members earn $20 to $25 an hour. Negotiators are asking for an immediate $5 an hour raise and an additional $3 an hour in subsequent years of the contract along with improvements in health care and retirement benefits.
Union members are now in the midst of the third wave of picketing against various hotels. The most recent picket lines are primarily in Beverly Hills, including The Beverly Hilton and the Waldorf Astoria Beverly Hills.
Members of the Unite Here Local 11 union initially walked off the job on July 2, continuing their picketing through the Fourth of July holiday. That first wave of picketing targeted 21 hotels involved in contract negotiations with the union.
The second wave of picketing began July 10, targeting a total of 12 hotels, including several in the Westchester area near Los Angeles International Airport.
The workers represented by the union include cooks, room attendants, dishwashers, servers, bellmen and front desk agents.
Representatives for the Coordinated Bargaining Group representing local hotels have accused the union of being inflexible in its demands.
The union "has not budged from its opening demand two months ago of up to a 40% wage increase and an over 28% increase in benefit costs. From the outset, the union has shown no desire to engage in productive, good faith negotiations with this group," the reps said in a previous statement.
Attorney Keith Grossman of Hirschfeld Kraemer, one of two firms representing the hotel coalition, told the Los Angeles Times previously that employers have offered raises of $2.50 an hour in the first 12 months and $6.25 over four years. He said housekeepers at unionized hotels in Beverly Hills and downtown Los Angeles, who currently make $25 per hour, would get a 10% wage increase in 2024 and make more than $31 per hour by January 2027.
The workers are on strike "because the union is determined to have one," Grossman said.
Unite Here Local 11 represents up to 15,000 workers employed at about 60 major hotels in Los Angeles and Orange counties.
Earlier this month, the union sent a letter to the American Political Science Association asking that it cancel it's planned 6,000-person annual meeting scheduled for Aug. 31-Sept. 3 at the Los Angeles Convention Center due to the strike.