Several dead in San Bernardino Mountains after storm, residents fear more
SAN BERNARDINO COUNTY, Calif. - It's been nearly two weeks since massive storms buried the San Bernardino Mountains in several feet of snow. 
In the days since the storms, residents have begged for help, whether in the form of street plowing, food or even life-saving medication. Progress is being made, but for some, it's too little too late. San Bernardino County Fire officials confirmed to FOX 11 that they've found two people dead on the mountain, both of whom were in hospice care.
Kristy Baltezore, who lives on the mountain, said she's also lost a close friend in the snow, and fears for other residents as the long road to recovery in the storms' aftermath continues.
SUGGESTED: 'Operation Snow Angel' helps those needing supplies in San Bernardino mountains
"We went to check on her, and she was dead in her home," said Baltezore. "She was not ill, she was not disabled. She was a very active, vibrant person. But there's, in my mind, no other explanation for her death except that she froze."
Baltezore's concern for other mountain residents led her to start a database for people on the mountain, that lets residents submit information about where they are and what they need. The information is then presented on a map.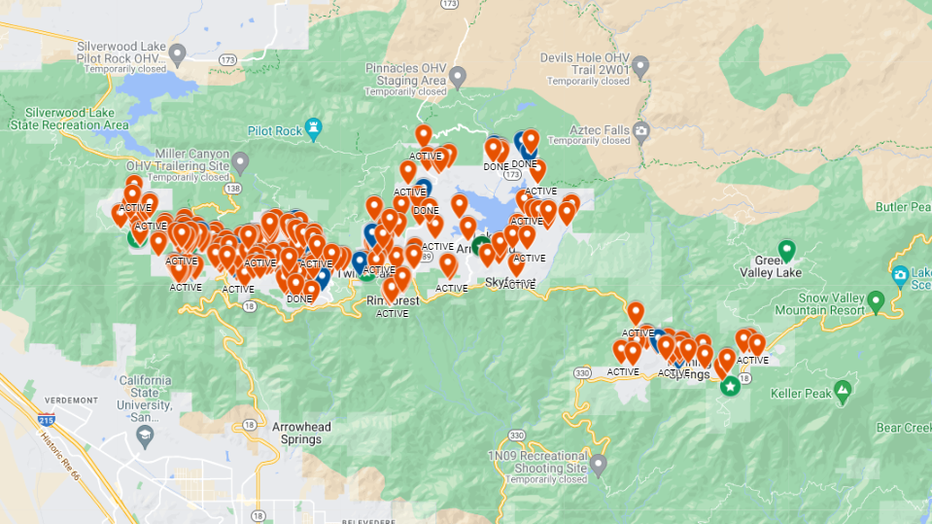 The result has been hundreds of residents asking for help. 
"We are asphyxiating because the heat sources up here are mostly gas and there's so much snow on the roofs that the exhaust pipes are blocked," Baltezore said.
Baltezore said she's offered the data to San Bernardino County agencies, but none have accepted it.
"None of us are first responders," Baltezore said. "We're just neighbors that care about our neighbors and want to see them again, and we don't want to see them come out here in body bags."
Baltezore said that Los Angeles County's Urban Search and Rescue team reached out to her after seeing her post. San Bernardino County Fire confirmed to FOX 11's Cristy Fajardo that they did receive an offer of aid from that department, but turned them down, saying they already have enough people with that expertise on the mountain.