Santa Monica Pier to honor Kobe Bryant on Thursday, Aug. 24
SANTA MONICA, Calif. - The Santa Monica Pier will light up in purple and gold Thursday night in honor of late Lakers Legend Kobe Bryant.
Pacific Park's 90-foot-tall Ferris wheel will light up with 'LA + heart + 24' and 'LA + heart + 8' along with displays of gold and purple colors in a variety of patterns and transitions.
Kobe Bryant Day (also known as Black Mamba Day or Mamba Day), 8/24, honors the two jersey numbers Bryant wore during his 20-year NBA career, as well as it being the day after his birthday, August 23. In 2017, he became the first player in NBA history to have two jersey numbers retired by the same team.
The Pacific Wheel's 174,000 LED lights are mounted on the Ferris wheel's structure including the 40 spokes and two hubs. The world's only solar-powered Ferris wheel's lighting system features 16.7 million color value combinations while the programming and display software presents imaging up to 24 frames per second to display dynamic, custom, computer-generated lighting entertainment. The eco-friendly, enhanced LED lighting provides 81 percent greater energy savings than most Ferris wheel's traditional incandescent bulbs.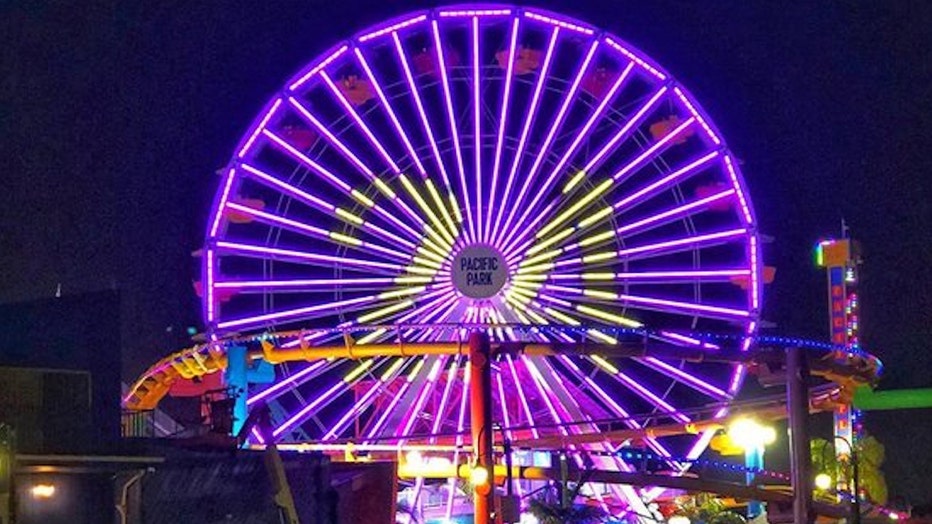 Photo credit: @helenasungxoxo.
The Ferris wheel will be lit up in honor of Kobe from sunset Thursday night until midnight.
Below you'll find a list of ways to honor Mamba on his special day.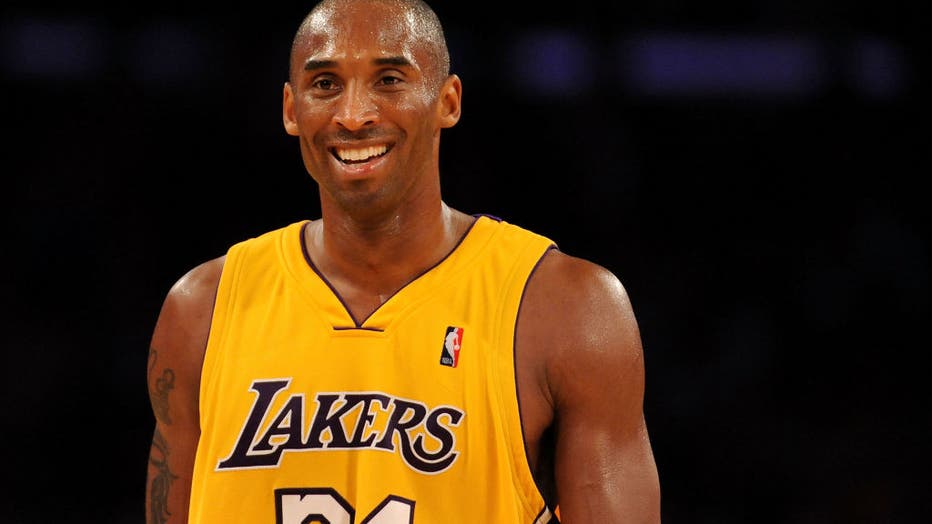 Kobe Bryant #24 of the Los Angeles Lakers smiles in the fourth quarter during the game against the Chicago Bulls on November 19, 2009 at Staples Center in Los Angeles, California. The Lakers won 108-93. (Photo by Harry How/Getty Images)
Take a walk around Staples Center
Staples Center is known as"The House that Kobe Built," as Bryant won 5 NBA championships in 20 seasons donning purple and gold.
The Lakers and Clippers moved to Staples Center in 1999, which marked Mr. Bryant's fourth season in the league.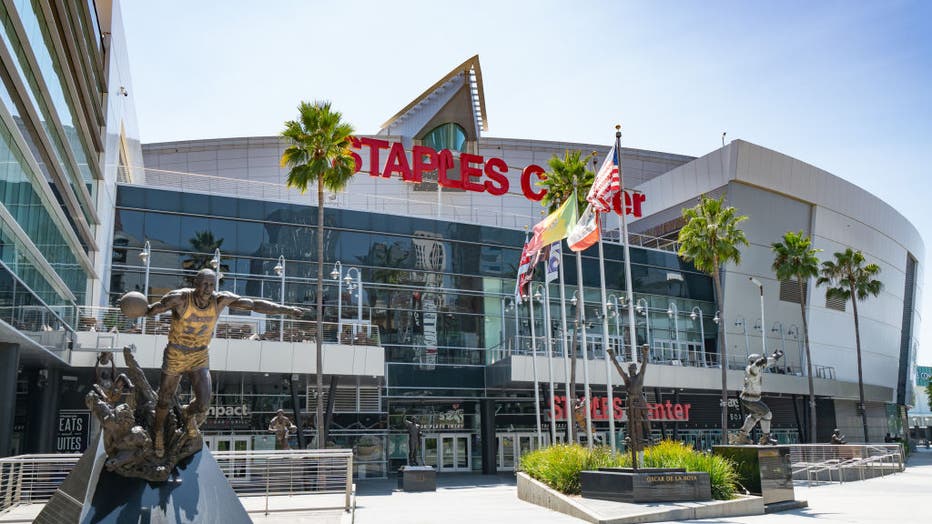 LOS ANGELES, CA - AUGUST 04: General view of the Staples Center on August 04, 2020 in Los Angeles, California. (Photo by AaronP/Bauer-Griffin/GC Images)
The restaurants surrounding Staples Center are open for dine-in and takeout. This includes LA staple, The Original Pantry Café, along with Yard House, Fleming's, El Cholo, Broken Spanish, Levy, and Rock N Fish Restaurant.
Last August, Los Angeles City Councilman Herb Wesson announced there is a plan in the works to rename a portion of Figueroa Street after the Lakers legend near the arena.
Visit a Kobe Bryant mural
Murals honoring Kobe and Gianna Bryant can be found worldwide, with more than 300 in the Los Angeles area. 
KobeMural.com details where you can find mural locations in Southern California, throughout the US, and across the globe.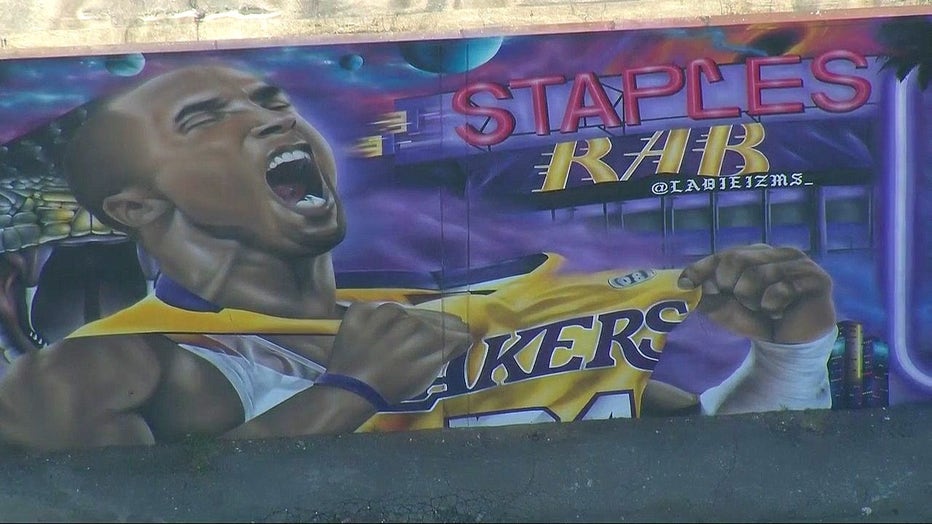 "Kobe Bryant to me was just an absolute hero. His worth ethic and who he was as a person, his Mamba Mentality I really applied throughout my whole process of being here for so long," muralist Ladie One said.  
She's in the process of unveiling a Kobe Bryant mural in downtown Los Angeles that has taken 150 days to complete.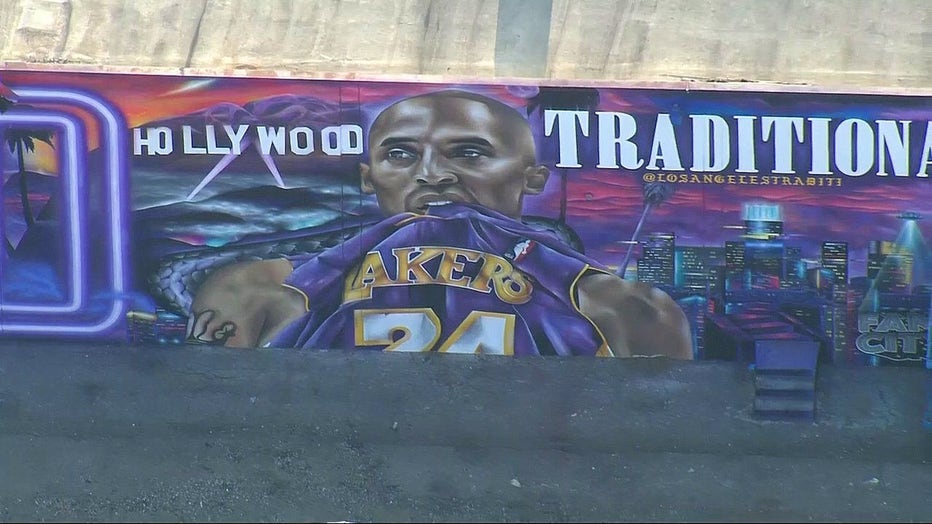 RELATED: Kobe Bryant Mural Map: Photos, artist info, locations in Los Angeles and worldwide
See an interactive map for mural locations below:
RELATED: 
"Kobe meant everything to LA…this is his home and when this tragedy happened, it really hit here very hard... the victims were all from this town. To do this mural, I have to do it just out of love for Kobe's family and for the Lakers Nation," said muralist Tyke Witness. 
Witness' mural commemorating Kobe and Gigi is located in Costa Mesa.