San Francisco's Market Street Old Navy to close, company says
SAN FRANCISCO - The iconic Old Navy store on Market Street in downtown San Francisco will shutter its doors on July 1 after nearly 30 years in operation, a spokesperson for Gap Inc., Old Navy's parent company, announced on Friday.
"Since our Market Street store opened in the 1990s, the way we leverage flagship locations has changed," the company announced. "As a result, we have taken the difficult decision to close our Market Street store when the lease expires, and we are already working to identify new locations in downtown San Francisco that will better serve the needs of the business and our customers."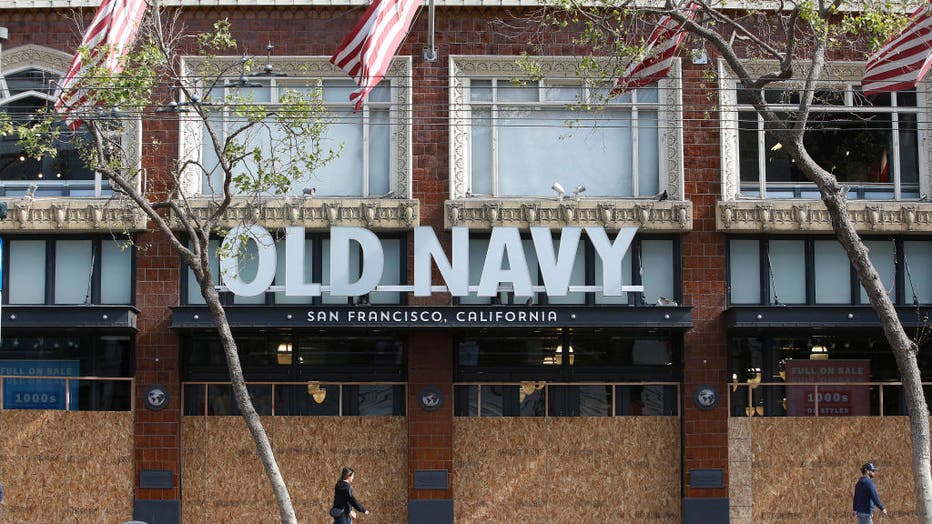 Pedestrians walk past a boarded up Old Navy store on Market Street on Friday, March 27, 2020 in San Francisco, Calif. (Photo By Lea Suzuki/The San Francisco Chronicle via Getty Images)
Old Navy's closure comes on the heels of many other downtown San Francisco retailers shuttering their doors. 
Williams Sonoma, Nordstrom, and Saks Off 5th have all announced store closings in San Francisco in the month of May. 
As did Coco Republic, an upscale home furnishing provider that is leaving its three-story storefront at 55 Stockton Street after opening last fall. 
"I used to shop at Old Navy a lot when it first opened," said Arthur Campbell, a San Francisco shopper, adding that he's noticed a decrease in customers at the store. "Since the pandemic, I've noticed there has been a slight difference in everything because the economy has gone down since then."
Across the street from the Westfield Center – which hosts the soon-to-be vacant storefronts of Old Navy, Banana Republic and Anthropologie – is an entire block of empty stores, except for one, Dr. Martens.
"We're hanging in there honestly. It's definitely been a little more quiet, but it makes people kind of appreciate we're the last remaining store still here, you know," said Jen Thompson, manager of the Dr. Martens store.
Thompson said rents have been on the rise, hurting retailers that have been struggling to recover from the pandemic.
Retailers also have seen a loss of customers from the drop in convention business and tourism.
Also, adding to the pain is the trend of people shopping online.
"Post-pandemic I think everyone's into that whole, 'let's online shop' experience rather than coming in and looking at products in person and trying them on," said Tenille Frichot, a former San Francisco resident who now lives in Perth, Australia.
At the Dr. Martens store, staff are hoping the return of big events such as SF Pride will bring people downtown and help keep them afloat.
"We're actually getting ready to set up the window display for Pride," Thompson said.
Bay Area shoppers can still find Old Navy stores on Folsom Street in San Francisco, Daly City, Colma and Emeryville.