Report: California receives D- grade for social distancing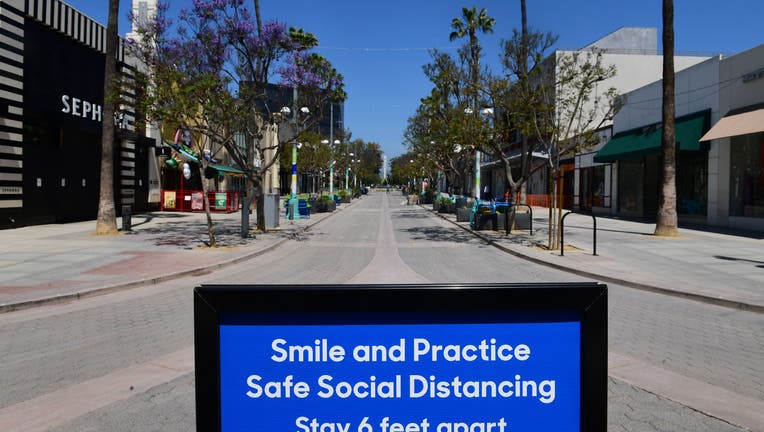 LOS ANGELES - For weeks Californians throughout the state have been staying at home, physically and socially distancing themselves from others in order to prevent the spread of COVID-19. 
But is social distancing really working? And are we doing it well? 
According to data collected by Unacast the state of California received a D- grade in terms of social distancing. 
According to Unacast the grade is based on three elements: change in average mobility, change in non-essential visits and difference in encounter density. 
"Encounter density" looks at the proximity between any two users within 50 meters over an hour period, according to Unacast's methodology.
A breakdown of the grade shows California had a 25% to 40% 'reduction in average mobility', which is based on distance traveled according to Unacast. This gave the state a D rank. The state received an F grade for having a 'less than 55% reduction in non-essential visits' and a D grade for having 40% to 74% 'decrease in encounters density compared to national baseline'. 
RELATED: Social distancing, face coverings at essential businesses the 'new normal' in LA County
Twelve counties received an F grade including Los Angeles, Sacramento, Ventura, Riverside and Fresno. Orange County and San Bernardino counties received a D- grade.
No A's were given and the only B grade was for Mono County. 
Click here to view the interactive map and see all grades 
Nationwide, Washington, D.C. is the top-performing state with a "C" grade. Residents there have decreased travel between 40 and 55 percent.
Alaska, South Dakota, North Dakota, Maine, Vermont, and Nevada were the next highest-performing states earning "C-" grades.
To collect the data, Unacast says it used tens of millions of anonymous cell phone records and their interactions with each other in order to ensure user privacy.
Get breaking news alerts in the FOX 11 News app. Download for iOS or Android