Significant storm to bring 3 days of rain, snow to Southern California
LOS ANGELES - Get your umbrellas and rain boots ready. 
The most significant rain since December of last year will impact Southern California starting Monday as a storm moves into the region, bringing not only rain but mountain snow and gusty winds expected to last through Wednesday.
FOX 11 meteorologist Rick Dickert said the heaviest rain is expected during the overnight hours and into early Tuesday morning. 
A Flood Watch has been issued for the Los Angeles County burn scars and will be in effect from 10 p.m. Monday through 10 p.m. Tuesday, according to the National Weather Service. Heavier rainfall may lead to minor mud and debris flows in recent burn scars, especially the Fish and Route scars, the agency said.
RELATED: Evacuations issued for burn scar areas in LA, Orange counties ahead of rain
Rainfall totals will range from one to three inches along the coast and valleys, while up to five inches is predicted in the foothills and mountains.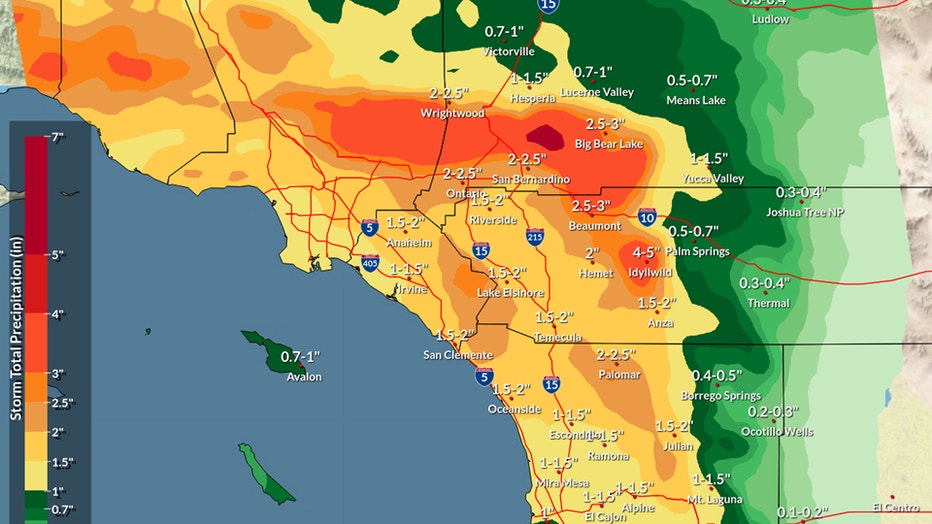 Total rainfall could exceed 4 inches, according to the NWS' Los Angeles office.
There will also be mountain snow and high winds. Snow level is expected to be high early on due to the subtropical nature of the system, Dickert said. 
In the mountains, snow accumulation was possible Monday night at 6,500 to 7,000 feet, where forecasters predicted 6-12 inches, with local amounts up to 20 inches.
The wet weather will be accompanied by chillier days and nights. Daytime temperatures are expected to drop into the low 60s in the valleys and the downtown Los Angeles area through Wednesday, with lows in the 50s Tuesday and the lower 40s Wednesday, Thursday and Friday.
Additionally a winter storm watch goes into effect Monday night, and there are chances flood advisories and flood watches could be issued as the storm progresses, he added.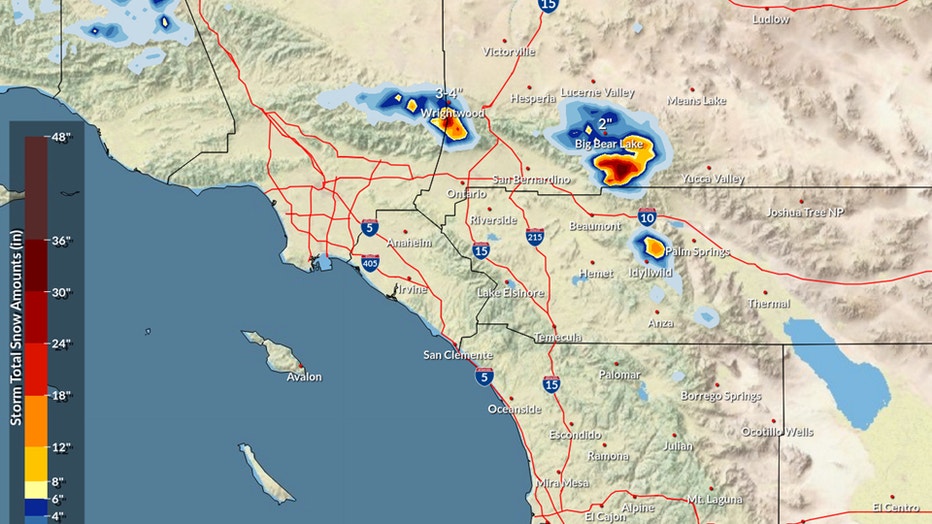 Things will start to clear out by Wednesday afternoon/evening and conditions will be dry into next weekend. 
City News Service contributed to this report.