SoCal puppies up for adoption on National Puppy Day
LONG BEACH, Calif. - Whether they're hungry, sleepy, playful, or snuggly, puppies have the ability to spread joy wherever they are. March 23 is National Puppy Day, and animal care service providers all over the Southland land hope it will inspire people to take action.
"Use it as a time to reflect on - is it maybe the time for your family to bring home a new doggy, a new puppy?" asked Denise Woodside, Executive Director of Southeast Area Animal Control Authority (SEAACA.) 
National Puppy Day was founded in 2006 and is meant to celebrate the bond that humans share with dogs and to raise awareness of - and put an end to puppy mills.
"They're sort of breeding factories for puppies of what we call 'desirable' or 'designer' dogs. And the animals that are kept in those particular facilities are in horrible circumstances, they're in enclosures that are far too small, and the mother dogs are just bred and bred and bred to produce puppies," said Staycee Dains, Animal Services Director with Long Beach Animal Care Services. "If someone's willing to sell you a puppy online, especially from a different state or city sight unseen, and there's no process for vetting you as a home to make sure you're a good home, dollars to donuts that's a puppy mill."
There are lots of ways the public can help. If adopting from a local shelter isn't an option, there are also foster and volunteer opportunities - some with short time commitments.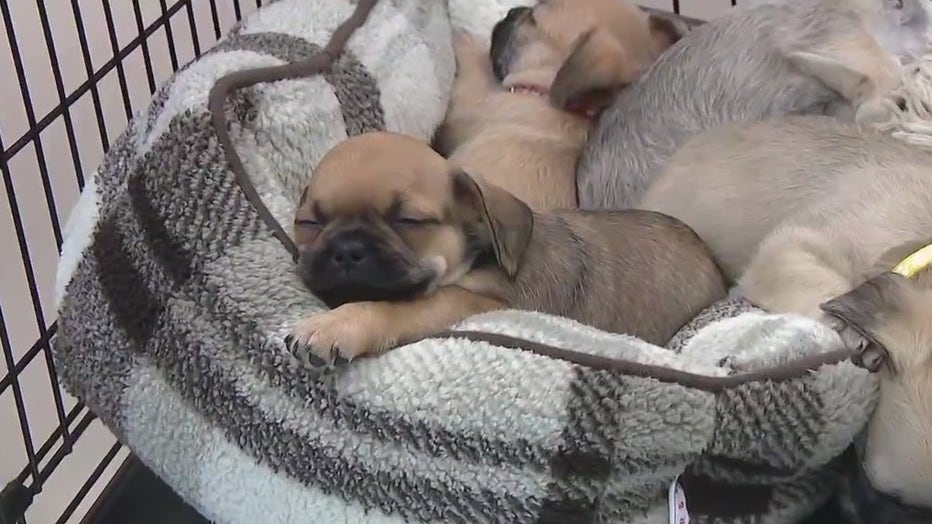 "We have a little treat program where people can just pick up a little sack of treats and walk through and give the dogs treats, we have our pet literacy program where people can just come hang out and sit and read to a dog," said Dains. "If someone has that spark of compassion, we want to fan that flame. And we want them to come down and let their compassion save lives."
For more information on Long Beach Animal Services, go to: https://www.longbeach.gov/acs
For more information on SEAACA, including upcoming events, go to: https://seaaca.org