Prayer service held in honor of Cook's Corner shooting victims
ORANGE COUNTY, Calif. - A prayer service was held Friday evening in memory of the three people killed and others affected by the mass shooting at Cook's Corner bar in Trabuco Canyon.
Prior to prayer service, Orange County Sheriff's Department officials identified two of the deceased victims killed in the Wednesday night shooting as Tonya Clark, 49, of Scottsdale, Arizona, and Glen Sprowl Jr., 53, of Stanton. Sheriff's officials previously identified the third victim as John Leehey, 67, of Irvine.
The shooter was also shot and killed by police.
Beyond those deaths, six other people were wounded in the incident at the famed biker bar in the 19100 block of Santiago Canyon Road.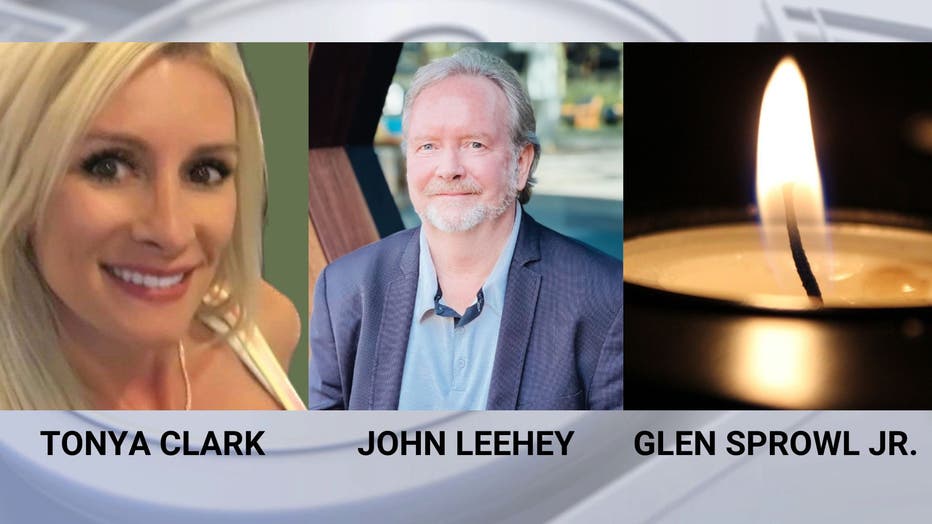 COOK'S CORNER SHOOTING:
A prayer gathering on Friday night -- including a procession of motorcyclists -- brought people together to mourn at Saddleback Church in Lake Forest. The event, attended by members of Leehey's family and others impacted by the tragedy, was also live-streamed on the church's social media channels.
"This tragedy has left many friends and family members devastated, and many more members of the community shocked and dismayed," church pastor Andy Wood said. "This is a time we can come together and ask God for comfort and healing."
The church also welcomed people struggling to cope with the tragedy to reach out to its "pastoral care team" at 949-609-8000.
"There's a grief that our community is carrying," Wood said. "God is able, in the midst of our grief, to comfort us in that sadness."
Orange County officials reminded residents that mental health support and other resources can be accessed around the clock at 855-625-4657.
Orange County Sheriff Don Barnes said Thursday the gunman -- 59-year-old retired Ventura Police Department Sgt. John Snowling -- entered the bar Wednesday night carrying two handguns and walked directly to his estranged wife, Marie, and shot her once. Marie Snowling's family said she was shot in the jaw but survived.
The gunman then shot the woman with whom his wife was dining. That woman, believed to be Clark, managed to run outside the bar, where she died.
According to Barnes, Snowling then began firing randomly into the crowd, killing Leehey and Sprowl and wounding the others as patrons scrambled for cover.
A total of six people were injured in the shooting. Marie Snowling and an unidentified man who was shot in the chest were hospitalized in critical condition, while four other men suffered lesser injuries. One of those men, a cook at the restaurant, was shot in the arm, witnesses said.
James O'Malley, who was at Cook's Corner with Leehey, told reporters the pair were having a beer in the bar's picnic area when they heard gunshots and saw people running outside. He said they both also started to run, and he saw his friend fall to the ground.
"I thought he tripped, and then my mind said, no, that wasn't a trip because he didn't even cushion his fall," O'Malley told CBS2.
In fact, Leehey had been shot in the back and died at the scene.
Barnes said the other man killed, believed to be Sprowl, was shot when he attempted to engage the gunman outside the bar, hoping to bring a halt to the gunfire.
After the initial barrage of gunshots, Snowling went to a silver pickup in the bar's parking lot and retrieved another handgun and a shotgun, then he continued shooting, Barnes said.
Arriving sheriff's deputies quickly spotted the gunman, who shot at the law-enforcement personnel, prompting them to return fire. According to Barnes and District Attorney Todd Spitzer, seven deputies shot at the gunman, firing at least 75 rounds, killing the suspect.
According to the Ventura Police Department, Snowling retired from the police department as a sergeant in February 2014, ending a career that began in July 1986.
Barnes said Snowling -- who apparently has residences in Camarillo, Orange County and Ohio -- traveled from Ohio to Southern California then made his way to Cook's Corner, where he knew his estranged wife would be. Marie Snowling had filed for divorce in December, and the case was still pending.
It was unclear how long Snowling had been in the Orange County area or if he had been following his estranged wife's movements. But Barnes said it was clear that Snowling knew she was at Cook's Corner Wednesday night. He said that according to witnesses, Snowling walked directly up to her and shot her without saying anything.
The couple have two adult children. Barnes said Marie Snowling's son was with her at the hospital on Thursday, and she was awake and talking.
Spitzer said his office will review the propriety of the law- enforcement shooting, but he hasn't found any evidence to believe "in any way whatsoever that their acts were nothing less than heroic and that nothing they did ... indicates any criminal activity or excessive use of force in any way whatsoever."
Officials at Providence Mission Hospital in Mission Viejo, where all of the injured shooting victims were taken, said Thursday that Marie Snowling had been transferred to UCI Medical Center in Orange.
The man who was shot in the chest remained in critical but stable condition at Providence Mission Hospital on Friday, hospital officials said. The other four patients taken to Providence Mission were all men. One of them was released Wednesday night, two others were discharged Thursday and the fourth -- the cook who was shot in an arm -- underwent surgery Thursday and was still hospitalized Friday in stable condition, according to the hospital.
The Ventura Police Department issued a statement Thursday saying the agency was cooperating with Orange County authorities in the investigation.
"Our hearts weigh heavy with the distressing incident at Cook's Corner," VPD Chief Darin Schindler said. "Our deepest condolences are with the families of the victims, the survivors, add the Orange County deputies who swiftly responded to the scene. This incident deeply affects us all."
A woman who encountered the gunman outside the bar begged the man not to shoot her, telling him she was five months pregnant. The woman said the shooter spared her life, telling her, "Get out of here."
Cook's Corner is a well-known bar and biker hangout. The building is believed to date back to the late 1800s, although it did not begin operating as a restaurant until the 1920s. The restaurant bills itself as "one of the most famous biker bars in Southern California."
Orange County leaders said that while Cook's Corner is known as a biker bar, it is really a regular gathering place for families and the community, particularly during its weekly Wednesday night $8 spaghetti dinner special, which was occurring when the shooting erupted.
"It's a gathering place," Barnes said. "It's a place for families to go to share a meal. It's a tight-knit community."
Spitzer added, "This is personal. I am one of those bikers. I am one of those people that would often go on Wednesday nights for spaghetti night... It is iconic, it is special. And nothing that happened last night is going to ruin either the canyon, its austerity, its prominence or Cook's Corner."
Orange County Supervisor also hailed Cook's Corner as a "family spot."
"It draws bikers and so many other from around the county," he said. "It is a wholesome place. I've been out there when they've done charity events, when the put on music shows for our veterans... It will be forever sad. There's no other word for it, that such a happy place will now go forward under the shadow of what happened last night."
Gov. Gavin Newsom issued a statement Thursday lamenting the shooting, while also urging the public to take advantage of "red-flag" laws that can lead to seizure of weapons from people who might be considered a threat to themselves or others.
"California mourns for the victims of last night's horrific shooting at Cook's Corner," Newsom said. "As we continue to learn more details about this act of violence, there are early reports that this horror was related to a domestic dispute. This type of trauma is unfortunately not isolated. Two-thirds of mass shooters in America have a history of domestic violence.
"Victims and survivors in California should know they are never alone -- we have tools and resources to support and protect you. Our state's red flag laws allow victims, family members, coworkers and others to work with local law enforcement and the courts to safely remove guns from those who may be a potential threat. We must continue to strengthen, defend and use these laws. If you see red flags, say something -- and in doing so, save lives."