Living the Armenian-American dream, how Paul Ignatius inspired so many
LOS ANGELES - From fighting in the Navy to helping his community and inspiring people... Paul Ignatius has done it all.  
At 102 years old, the Armenian-American Veteran is filled with joy, passion and charisma.  
His family roots and history travel far. His grandfather was among the first Armenians to settle in Glendale, California in 1911. After living in Armenia and then Manchester, England, his family moved to sunny California and made Glendale their home. Paul was then born on Nov. 11, 1920.  
He graduated from Hoover High School in 1938 then attended the University of Southern California, graduating in 1942.
Glendale now has the second-largest Armenian population of any U.S. city, behind Los Angeles, but it wasn't always like that.  
"I think the only kids with Armenian parents in school at that time were my brother, sister and myself," Ignatius told FOX 11. 
But despite living in a new country, his family thrived and made a name for themselves.  
His father and mother founded the organization Armenian Allied Arts Association which helps foster the development of people in arts and music. His father also founded a senior home facility in the San Fernando Valley.
"The remarkable thing I think about Armenian people is that they have survived for so long in times of adversary as well as good times. They have been innovators from early on, making wine, leather shoes, doing a lot of things and despite the tragic elements of Armenian history, particularly the terrible period in 1915, they have managed to continue this long history of contributions to culture."
After graduating USC, Ignatius enlisted in the Navy. He was a lieutenant in the Navy during World War II and served for four years. He then served eight years in the Pentagon, first as Assistant Secretary of the Army, then Assistant Secretary of Defense and then he spent his last two years as Secretary of the Navy from 1967 to 1969 under President Lyndon B. Johnson.  
Ignatius was the highest-ranking Armenian-American in the U.S. government. He encourages other Armenian-Americans to enter public service fields. 
"I believe that one of the strengths of people with Armenian heritage is their intellectual ability," he said. "They have contributed to cultural achievements in the past and are continuing to do so today."
To his surprise, the Navy in 2019, commissioned a destroyer in his honor... naming it the USS Paul Ignatius.
"Navy Secretary Ray Mabus invited me to lunch, we talked about this and that, and as lunch was coming to an end he said 'oh, by the way, I'm going to name a ship after you'. I said 'what', and he did," Ignatius said as he chuckled.  
The USS Paul Ignatius is a guided-missile destroyer and is now headquartered in Spain.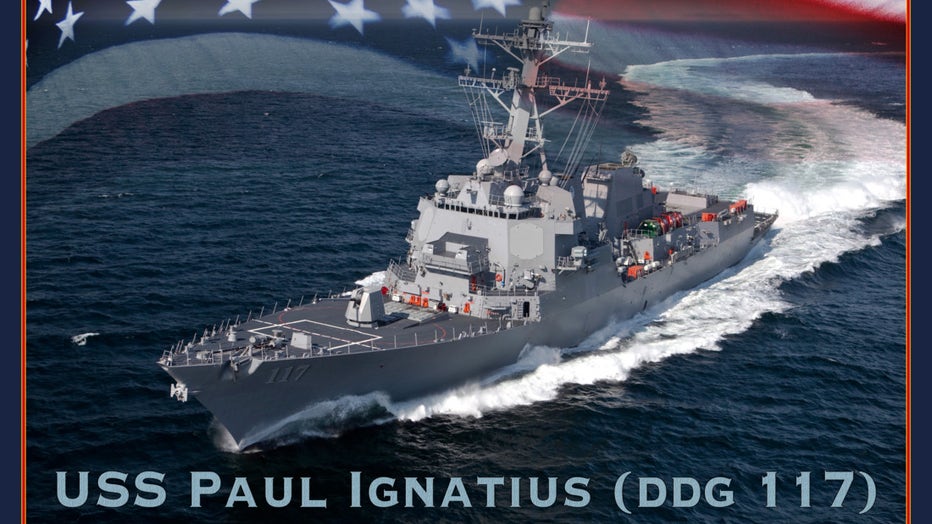 Ignatius has inspired so many people, including his grandson who became a naval officer. His grandson is stationed in Japan and ironically is on a sister ship of the USS Paul Ignatius.
"I had arranged a visit to the Pentagon for him and he felt patriotic walking through and seeing all these pictures, including my own portrait outside the Navy secretary office and I think he got kind of interested in that."
During his time in Glendale and in the Navy, Ignatius definitely made a lasting impact on people. Rep. Adam Schiff, who represents California's 30th Congressional District, recently introduced legislation to name a post office in Glendale after Ignatius.  
Schiff's bill would designate the post office at 6444 San Fernando Road as the "Paul Ignatius Post Office." It is also the same street that his grandfather built their house nearly a century ago. Talk about full circle.
Ignatius hopes to visit the post office and the Armenian-American Museum which is slated to open in 2024.
Ignatius, who lives in Washington D.C., now spends most of his time reading, writing articles and books, and of course spending time with his family. 
"I tried to lead an honorable life and do my best with whatever task I tackled."