Nonprofit 'It's Bigger Than Us" helping LA's underserved communities
LOS ANGELES - Making a change starts with a vision—helping underserved families get the basic necessities – and access to things like health screenings among other things.
These local volunteers are making a change.
'Its Bigger Than Us' is a nonprofit organization established in 2020 to provide safety and hope during the pandemic and social unrest. Since then the organization has grown—as have the needs of people.
The mission is to provide solution-based resources to underserved families so that all communities can thrive.
FOX 11's Araksya Karapetyan caught up with the founder of the organization during one of their community Friday Food Giveaways.
"This was a demonstration of my activism and allyship within my community. And in 2020, the world was upside down. And I wanted to go from screaming and marching and saying unity in the streets as we protested to actually demonstrating that in my community," said Tyrone Nance, Founder, CEO Its Bigger Than Us.
The idea was to get locals to come out to serve and volunteer. In the beginning it was about a dozen of Tyrone's friends from Crenshaw High and a few locals.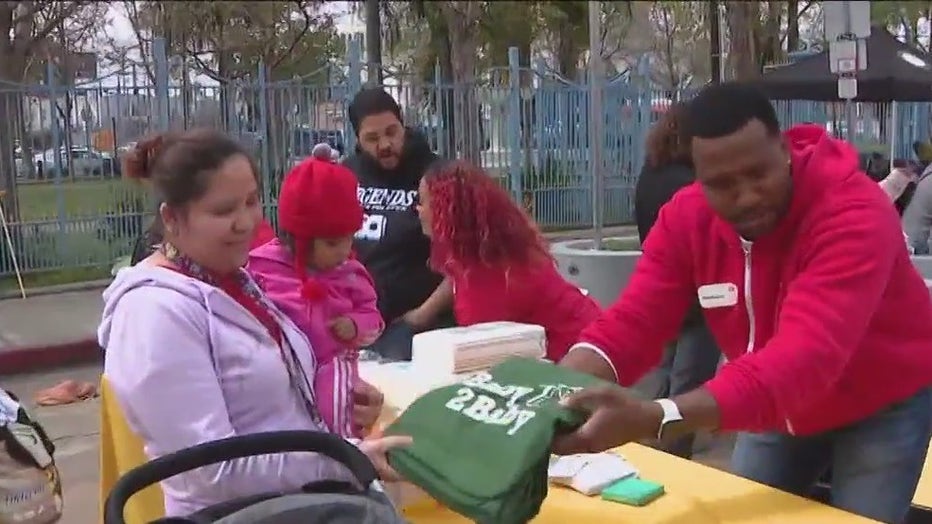 "By the first month we had about maybe 25 people invested. And then after that first month, we had about a good 100 people invested. We grew our volunteer database to over 600 within that first year," said Nance.
For him, it isn't just about giving back to his community… it's about getting to know the people and their needs.
"Growing up in South LA I saw how it was under-resourced and underserved, and I figured if I was able to go through certain doors to be able to expand and create pathways for the community," he added. 
By creating pathways – each of us can lead by example. This is the example Tyrone's mother set for him when he was growing up. 
"She founded an organization called Diamonds in the Rough Thrift Store, where it serves all of South L.A. Community. And so we've been able to work together to be able to serve our community. So as we're serving produce and resources, we'll be doing also giving away new and used items. And so my mom was the inspiration behind that with her store called Diamond in the Rough Thrift Store of 69 West," Nance said.
It isn't just food and clothing. it is about building partnerships across the board and gathering resources to better serve. 
"The goal is to go from outreach to programing to policy change. And we can't go to policy change if we don't start with programing. Our tagline here is, in order to bridge gaps, you need bridge builders. And so we want to encourage anybody that is, whether they're a volunteer or they consider themselves an advocate for change or an activist. They have a place in serving their community with their skills, their talents, their gift things, their jobs. All of that matters to help shape the ecosystem. When you say "Its Bigger Than Us" there's limitless expectations and how you can interpret serving, being a leader, being a visionary, being impactful in the community. So the name will always hold weight because you can never not do enough."
Every Tuesdays -- on 69th in Western from 10:30 a.m. to 11:30 a.m. and on Fridays—at Leimert Park Village from 10:30 a.m. to 11:30 a.m.
For more information visit itsbiggerthanusla.org.