Mudslides force evacuations in San Bernardino County communities
SAN BERNARDINO COUNTY, Calif. - Authorities ordered evacuations within some burn scar areas after parts of the Inland Empire were hit by heavy rain and mudslides.
On Wednesday, the search continues for a possible victim and their dog who may have been lost in the flood waters in the Forest Falls community. 
A storm cell swept through parts of San Bernardino County Monday afternoon and pushed heavy rain into the area, especially up in the mountains where some communities saw two inches of rain per hour.
Video shows some roads were washed out and several cars and homes were damaged by mud.
RELATED: Unstable weather in Southern California raise flooding, debris slide concerns
In Yucaipa, the Glen Oak community has burn scars from the El Dorado and Apple fires from early two years ago, making it susceptible to mud and debris flow.
The Oak Glen Steakhouse and Saloon on the Yucaipa Ridge has been swamped after being hit by a wave of mud.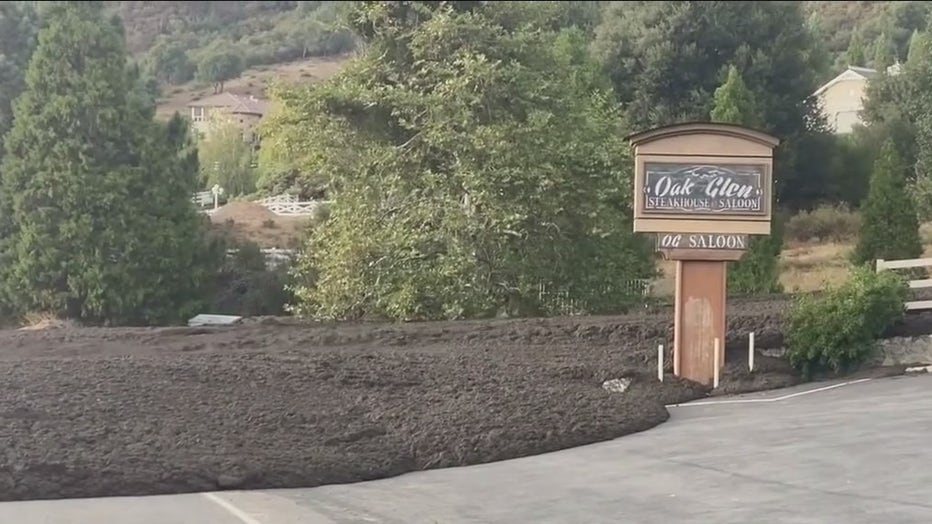 "We have an outpouring of help from the community," said the owner's son Brandon Gallegos said. "The quicker we can get up there and start cleaning out our building, the quicker we'll be able to get up and going. But it's pretty devastating."
The restaurant is closed until further notice.
Evacuation Orders
Evacuations were issued for Forest Falls residents. Prior to the order eventually being lifted, residents in the Oak Glen area were required to evacuate.
The Potato Canyon road remains closed for those looking to return to Oak Glen. Evacuation orders in the Oak Glen neighbood were lifted around 6 p.m. Tuesday.
In the Forest Falls area, an evacuation order is in effect for the following areas:
Canyon Drive south to Prospect Drive

South of Valley of the Falls
Evacuation Center
An evacuation center was established by the Red Cross at Redlands East High School located at 31000 E Colton Avenue.
The evacuations are in place until further notice.