More rain, mountain snow in Southern California forecast: Here's when
LOS ANGELES - Get ready for cooler weather and a chance for more rain and snow.
According to the National Weather Service, beginning Tuesday, there is an increased chance of on-and-off rain for the region, with the peak falling Wednesday night through Thursday.
The change began early Sunday night with drizzle continuing across the region into Monday.
Drizzle and light rain was forecast for Los Angeles and Orange counties Monday night and Tuesday morning, with the potential for heavier rainfall Tuesday through Thursday, especially Thursday. Thunderstorms are also possible Wednesday and Thursday.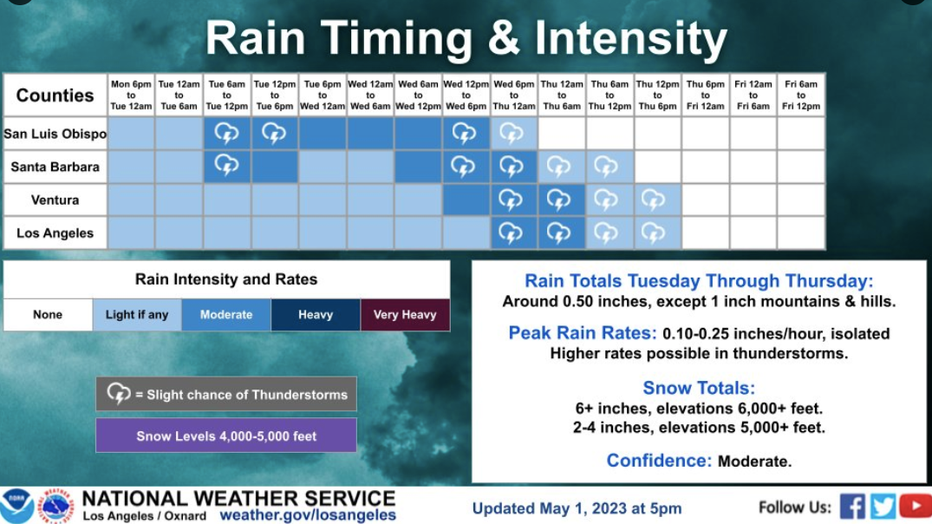 Graphic courtesy NWS Los Angeles
You can also expect wind gusts to pick up as wind advisories go into effect for some counties.
Officials forecast a third to an inch of rain and between 4 and 8 inches of snow above 5,000 feet especially at the Tejon Pass.
Cooler temperatures are on the way to the Southland this week, along with some rain, forecasters said Tuesday.
SUGGESTED:
Sunday's high of about 70 degrees in downtown Los Angeles was expected to drop to 59 on Tuesday, with highs of 62 forecast Wednesday and Thursday. Highs were expected to linger in the low 60s in much of Los Angeles and Orange County through at least Thursday.
City News Service contributed to this report.