Atmospheric River timeline: When will it rain in SoCal?
LOS ANGELES - The Atmospheric River is on its way to Southern California.
According to the National Weather Service Los Angeles, rain will continue in Los Angeles, Riverside, San Bernardino, and Orange counties over the next few days.
The "strong Pacific storm" is expected to move into the region Wednesday into Thursday with heavy rain and strong winds possible, the NWS said. Peak intensity of this storm will happened from midnight to noon Thursday, according to the NWS.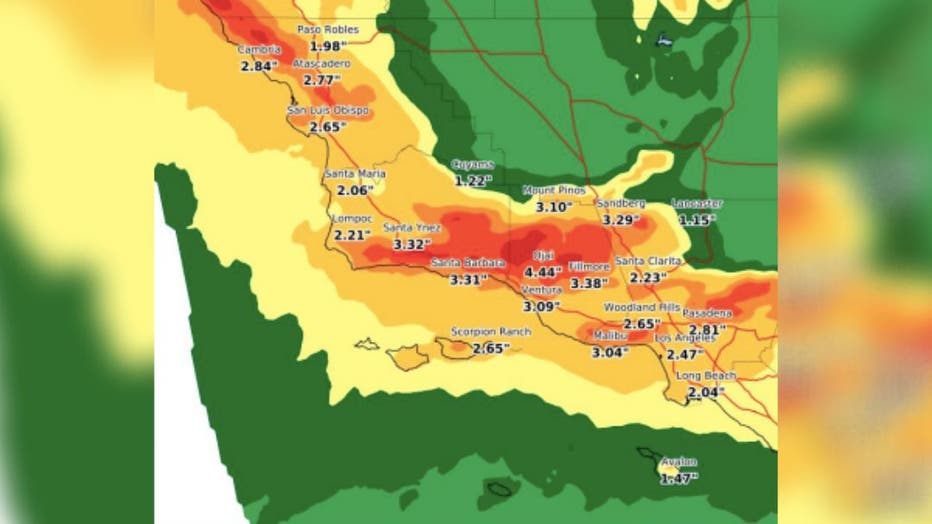 Officials said there is a possibility of mud and debris flow in Silverado Canyon and other burn scar areas. 
A Flash Flood Watch is in effect from Wednesday night through Thursday afternoon for Los Angeles and Ventura counties due to the possibility of significant flash flooding and debris flows, especially in and around recent burn scars, the NWS said.
For a portion of southwest California - including Orange County inland and coastal areas, the Riverside County mountains, San Bernardino County mountains, San Bernardino and Riverside County Valleys as well as the Inland Empire and Santa Ana Mountains and foothills - a Flood Watch is in effect from early Thursday morning to the afternoon. 
A Wind Advisory is in effect from 8 p.m. Wednesday to 4 p.m. Thursday for mountains in San Bernardino, Riverside, and San Diego counties, in addition to the Apple and Lucerne Valleys. 
Sandbag pickup is available in many cities including Lynwood and Rancho Palos Verdes.
In addition, wind advisories and warnings are likely Wednesday into Thursday.
The main band of rain and strong winds is expected over San Luis Obispo and Santa Barbara counties, officials said.
The rain will begin to taper off Thursday night into Friday.
High surf advisories were issued for Orange County and San Diego County until expiring 6 p.m. Monday. Various wind advisories were in place until expiring 6 p.m. Monday in mountain, valley and desert regions of San Diego, San Bernardino and Riverside counties.
Health officials are warning people to avoid entering ocean water near discharging storm drains or rivers due to possible bacterial infection. The Los Angeles County Department of Public Heal
Temperatures are expected to be cold throughout the week, with highs in the 50s and 60s in most areas.
The National Weather Service's forecasted low temperatures and wind chill are expected dip conditions below freezing at Mount Wilson on Thursday and in Lancaster's Antelope Valley on Tuesday, Friday and Saturday, prompting the Los Angeles County Health Officer to issue a Cold Weather Alert.
Health officials noted that stormwater runoff that reaches the ocean can carry bacteria, chemicals, debris trash and other health hazards. People who come in contact with impacted water in the ocean could become ill, health officials said.
The rain was welcomed in drought-parched California as the past three years have been the state's driest on record. Most of the state's major reservoirs were still well below their historical averages. The one exception was Folsom Lake near Sacramento, which was at 153% of its historical average on Sunday.
City News Service contributed to this report.