Mom's photo of IVF baby surrounded by syringes goes viral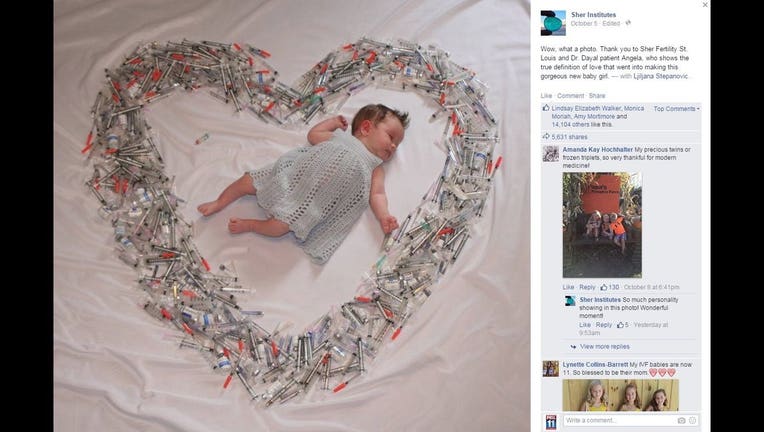 article
(FOX 11) - A fertility clinic shared a powerful photo that illustrates one mom's long, trying, and even painful process to motherhood.
Wow, what a photo. Thank you to Sher Fertility St. Louis and Dr. Dayal patient Angela, who shows the true definition of love that went into making this gorgeous new baby girl.
The photo, submitted by a mother named Angela from St. Louis and shared by the Sher Institutes on Facebook, shows her newborn girl Sophia surrounded hundreds of syringes and vials in the shape of a heart -- which were used by her mother to get pregnant via in vitro fertilization (IVF).

Angela told KTVU that Sophia was born in June, and she saved the syringes from five rounds of IVF because she knew it was going to be a rough road ahead.

"I took the photo so someday I can show Sophia how much I really wanted her," she told the station.
It took Angela a total of three years to get pregnant. She had tried for a year before two years of IVF, KTVU reports.
The post prompted other parents to share photos of their children, who were also conceived with the help of IVF.

"Didn't even tell my husband what this was, I just handed him my phone," one Facebook user wrote. "I saw tears form in his eyes as he probably also went through the memories of countless nights, over our four year journey, that he gave me shots. We finally were successful with twin boys and I've never been happier!"

The Sher Institutes, a national network of fertility clinics with nine offices across the country, said the photo "shows the true definition of love that went into making this gorgeous new baby girl."

"I think the photo struck a chord for anyone who has either gone through IVF or knows someone who did," Lisa Stark, Director of Communications at Sher Fertility Institute, told the station. "It brilliantly captures the joy and pain of what infertile women endure to become a mom."

Copyright 2015 FOX 11 Los Angeles: Download our mobile app for breaking news alerts or to watch FOX 11 News | Follow us on Facebook, Twitter and YouTube.