Manhunt continues for sniper who wounded deputy in Lancaster
LANCASTER, Calif. - UPDATE: Pellet gun rifle recovered in Lancaster deputy shooting, search continues for shooter 
A manhunt continues Thursday after a deputy was wounded in Lancaster. 
A large law enforcement presence responded to a mental health center in the area of Jackman Street and Sierra Highway following a report of a Sheriff's deputy shot Wednesday afternoon.
The Los Angeles County Sheriff's Department confirmed that someone shot at deputies resulting in one deputy being wounded at about 2:45 p.m. Two people were detained and questioned as they were the last two to vacate the apartment building, according to the Sheriff's Department.
The two people detained were not considered suspects and were not taken into custody, the Sheriff's Department said.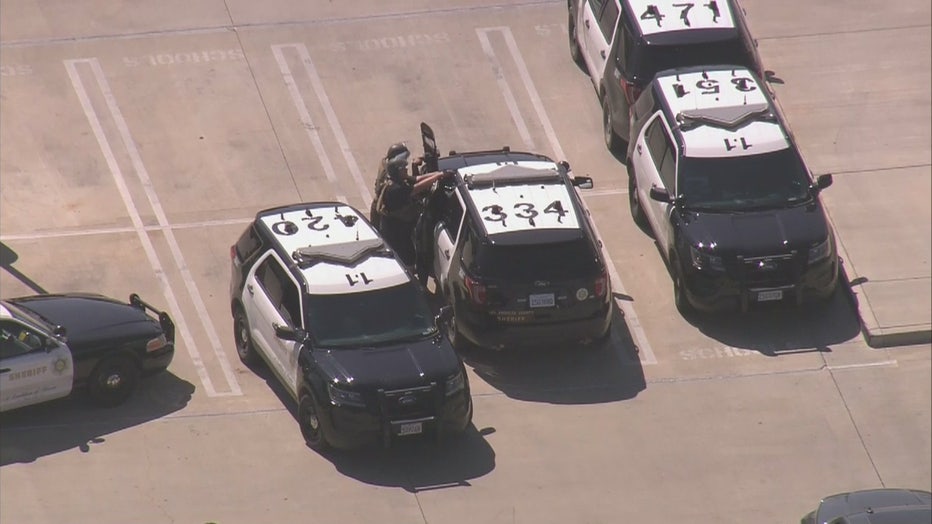 The shooter remains at large, according to law enforcement.
Authorities say it appears a deputy was walking to his personal car at the rear of the Lancaster Sheriff's Station located at 501 W. Lancaster Boulevard when shots rang out striking the deputy on the shoulder. Lancaster Mayor R. Rex Parris later said the deputy had been shot in the chest and added that the deputy was wearing a bullet-proof vest at the time that likely saved his life.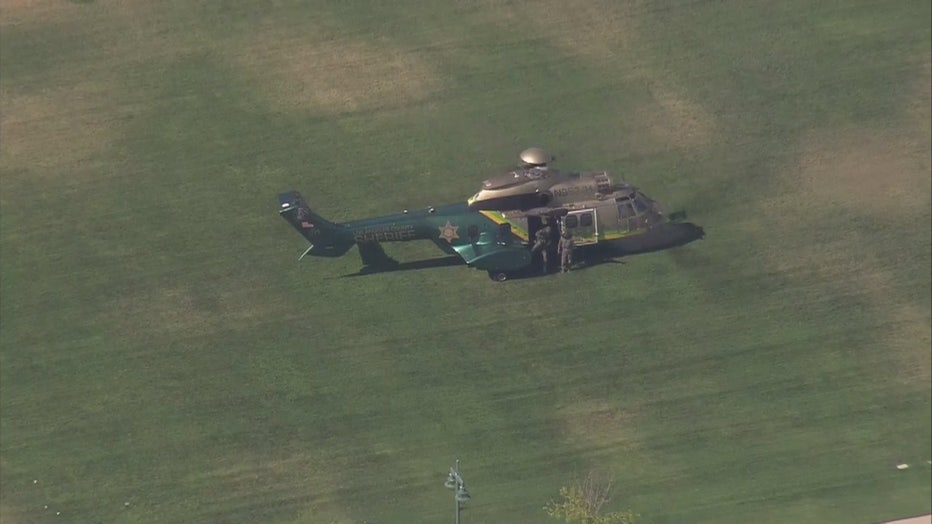 The deputy was able to radio for help and was evacuated from the parking lot. He was taken to a local hospital for medical attention and is expected to survive.
The deputy has been identified as 21-year-old Angel Reinosa. He has been with the Sheriff's Department for about one year and has been at the Lancaster Sheriff's station since May 2019, according to LASD.
Authorities sealed off the immediate area for the investigation and asked the public to stay away. 
See Wednesday evening's news conference from officials
Two Bearcat vehicles were called to the scene to assist with this investigation. Over 50 personnel with the Los Angeles County Fire Department are assisting law enforcement.
This remains a very active scene. Red Cross has set up a shelter at Antelope Valley High School where officials are expecting anywhere from 75 to 100 people who are residents displaced by the active investigation.
"It is incomprehensible that that sort of thing is happening in our city," said Mayor Parris in a public statement he issued condemning the shooting.
No further details were immediately known.