California to Las Vegas bullet train passes another major hurdle
LOS ANGELES - A high-speed train connecting Los Angeles to Las Vegas passed a major hurdle Monday, fast-tracking federal funds for the company to build the high-speed rail line along the Interstate 15 corridor.
All six of Nevada's elected federal lawmakers and four House members from California sent the letter to U.S. Transportation Secretary Pete Buttigieg indicating they're on board with a proposal from Brightline West to spend more than $10 billion to lay tracks. 
Brightline, which is reportedly the only private rail company in the U.S., is seeking $3.75 billion in federal funding from the Biden administration-backed federal infrastructure law.
In March, Brightline announced the memorandum with the High Speed Rail Labor Coalition, which includes 13 rail unions representing more than 160,000 freight, regional, commuter and passenger railroad workers.
SUGGESTED: Construction to begin on bullet train connecting SoCal to Las Vegas
According to Brightline, the expected travel time between Las Vegas and Los Angeles is approximately 2.5 hours. The zero-emission electric trains could carry 500 passengers at speeds of nearly 200 mph
Approximately 50 million one-way trips are made annually between these two destinations with 85% of them by car or bus, the company said. At full operations, Brightline expects to attract approximately 12 million one-way trips each year.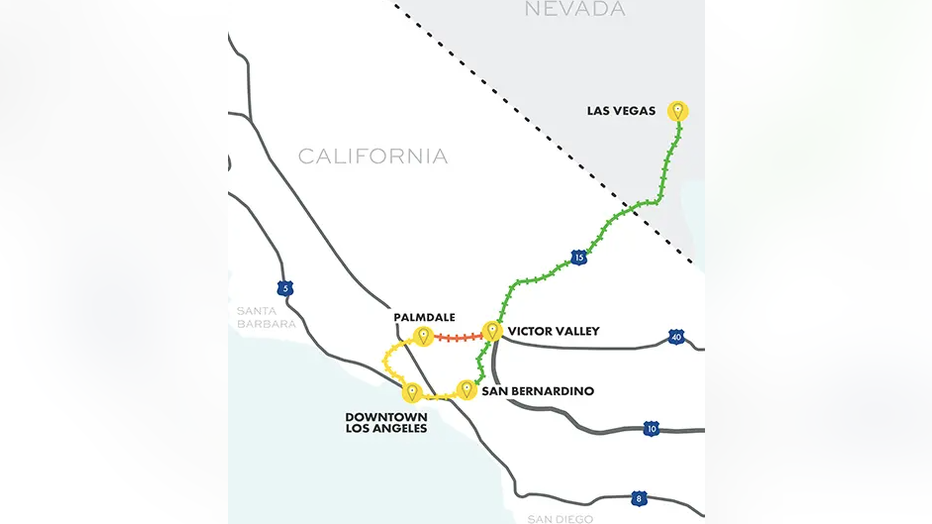 Amenities for travelers include free onboard WiFi, ADA accessibility from station to train, a wide selection of food and drinks, checked luggage, and hotel check-in services.
"This project is a major priority because it will make southern Nevada more accessible to millions of visitors each year," said U.S. Sen. Jacky Rosen, the Nevada Democrat leading the group. She said it "will boost our economy and create more good-paying jobs."
Union labor will be used during construction, the company and the Southern Nevada Building Trades Union have announced in recent weeks.
SUGGESTED: Point of View: California's bullet train
Construction was originally set to begin in 2020, but was halted when the company postponed a planned $2.4 billion bond sale to finance initial tracks and stations for the $8 billion project. The company blamed the delay on market instability because of the ongoing COVID-19 pandemic.
The project could be "the blueprint for how we can connect major city pairs that are too short to fly and too far to drive," said Mike Reininger, CEO of Florida-based Brightline Holdings LLC, the only privately owned and operated intercity passenger railroad in the United States.
The lawmakers' letter pointed to company projections of 35,000 construction jobs, 1,000 permanent jobs and reduced planet-warming greenhouse gas emissions from vehicles.
A draft environmental assessment of the Nevada-California project was made public last October 2022 and the Federal Railroad Administration is expected to finalize permits in July. The company said about 70% of funding will be private, using a combination of debt and equity.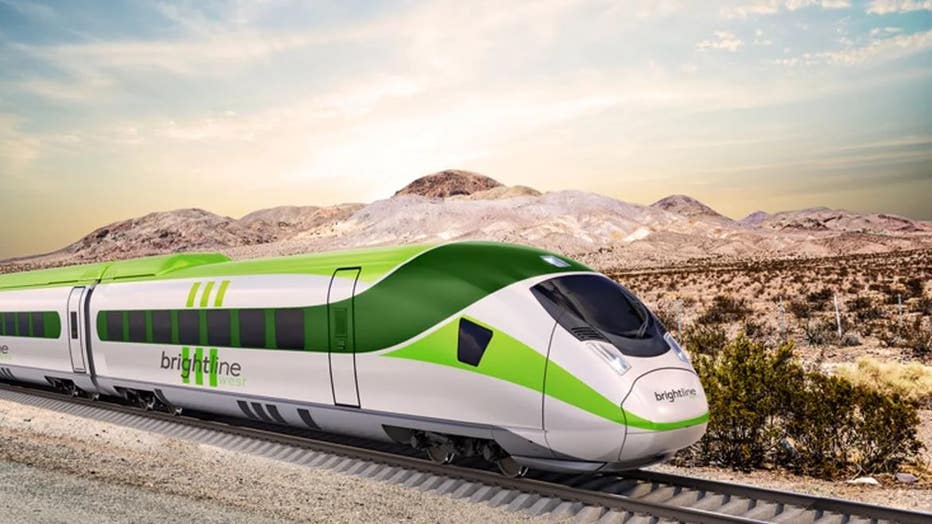 Photo courtesy Brightline West
Amtrak passenger service to Las Vegas ended in 1997 with the demise of a train called the Desert Wind. The concept of building a bullet train through the Mojave Desert dates back to at least 2005 under various names. It has seen starts and stops over the years and became sidetracked during the COVID-19 pandemic.
Other places where high-speed trains have been proposed include the 500-mile system linking Los Angeles and San Francisco.
A 2023 report by the California High-Speed Rail Authority says environmental clearance has been obtained for 422 miles and construction is underway for 119 miles in California's Central Valley.
Cost estimates have swelled to more than $100 billion — far greater than the $33 billion that voters approved in 2008.
The Rancho Cucamonga station will connect to Metrolink's regional rail network, which includes stations in Los Angeles, Riverside, Orange, San Diego, and Ventura counties.
U.S. Sen. Catherine Cortez Masto, a Democrat, and Nevada's four House members including Republican Mark Amodei signed the letter with Rosen seeking federal-state partnership funding through the Federal Railroad Administration's Intercity Rail Grant Program.
The Associated Press contributed to this report.