Lakers' Rob Pelinka addresses Jaxson Hayes signing
Are you or someone you know a recent survivor of domestic violence? Help is available. Los Angeles County has a hotline, which can be reached at 1-800-978-3600. A national hotline can be reached at 1-800-799-7233. 
LOS ANGELES - The Los Angeles Lakers' front office has been busy making moves during NBA free agency and one of the recent signings includes Jaxson Hayes, who officials say was involved in a domestic incident at his Los Angeles area home two years ago.
In July 2021, the Los Angeles Police Department launched an internal investigation after Hayes, who played for New Orleans at the time, was arrested following a physical altercation with officers in Woodland Hills.
Officers were called to the scene following the report of a domestic dispute at a home located near the intersection of Fallbrook Avenue and Ventura Boulevard.
The internal investigation revealed the LAPD sergeant violated department policy by kneeling on Hayes' neck for nearly 15 seconds during the altercation.
Hayes pleaded no contest to one misdemeanor count each of false imprisonment and resisting an officer. According to court documents, ten other misdemeanor counts against Hayes, including infliction of corporal injury and vandalism, were dismissed as a result of his plea.
In June 2022, Hayes was sentenced to 450 hours of community service, 52 weeks of domestic-violence classes and three years of probation. 
Looking to add depth to their roster, the Lakers announced the signing of Hayes on July 6. In an interview with The Athletic, Rob Pelinka, the team's vice president of basketball operations and general manager, said the Lakers did their due diligence and fully vetted the 23-year-old center. 
PREVIOUS COVERAGE: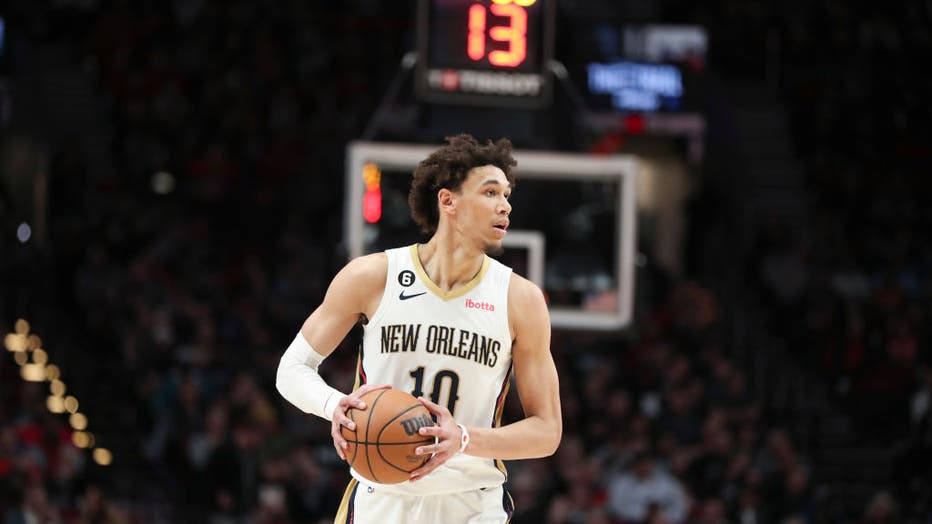 Jaxson Hayes. (Photo by Amanda Loman/Getty Images)
"I think the most important thing is we take those things very seriously and do a full vetting process," Pelinka said. "Jaxson has been very sincere (with) his apologies around handling that and has moved beyond it to where he's had a year or two in the NBA playing after it. It was something that we felt like he owned, took responsibility for it, and is going to be a better person on the other side of it."
RELATED: Lakers free agency: Keep track of who's in and who's out
Other new names to join the Lakers roster for the 2023-24 season include Gabe Vincent and Taurean Prince.