2 killed after driver runs red light in Lake Balboa: LAPD
LOS ANGELES COUNTY, Calif. - Two people were killed and another was hospitalized in critical condition following a high-speed collision that occurred after a driver ran a red light in Lake Balboa early Wednesday morning, police said. 
First responders were called to the intersection of Balboa and Victory boulevards after 3:45 a.m. Wednesday where they discovered three people trapped inside their vehicles, Los Angeles Fire Department spokesman Brian Humphrey said. 
Investigators with the Los Angeles Police Department said the preliminary investigation reveals a corvette, traveling northbound on Balboa Blvd., failed to stop at a red light and collided with a Honda.
The corvette was sheared in half. Surveillance video shows the Honda flying through the air as it hits and knocks down the sign from the shopping plaza. 
Firefighters cut one of the cars before pulling two of the victims from the vehicle. One victim was pronounced dead at the scene while the other two were rushed to an area hospital. Another person died at the hospital.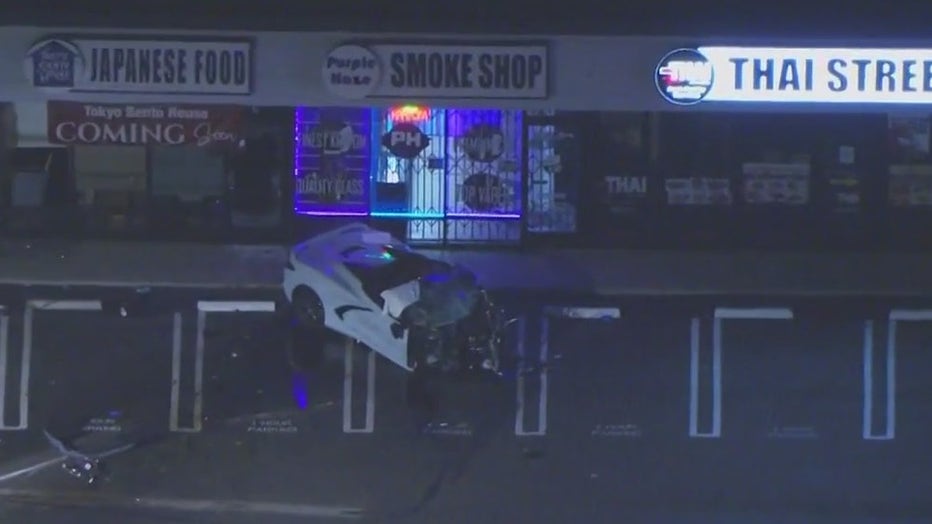 The woman in the Honda has been identified as Katty Figueroa, 45, according to the Los Angeles County coroner's office and the LAPD. The other motorist has not been identified yet. 
No other injuries were reported.