LA mayoral candidates meet in first public forum
LOS ANGELES - Four candidates in next year's Los Angeles mayoral election appeared in their first public forum together Sunday.
City Attorney Mike Feuer, Rep. Karen Bass, CEO of the Central City Association Jessica Lall, and Marketing executive Craig Greiwe were all in attendance. City Councilmen Joe Buscaino and Kevin de Leon were scheduled to appear but did not show up.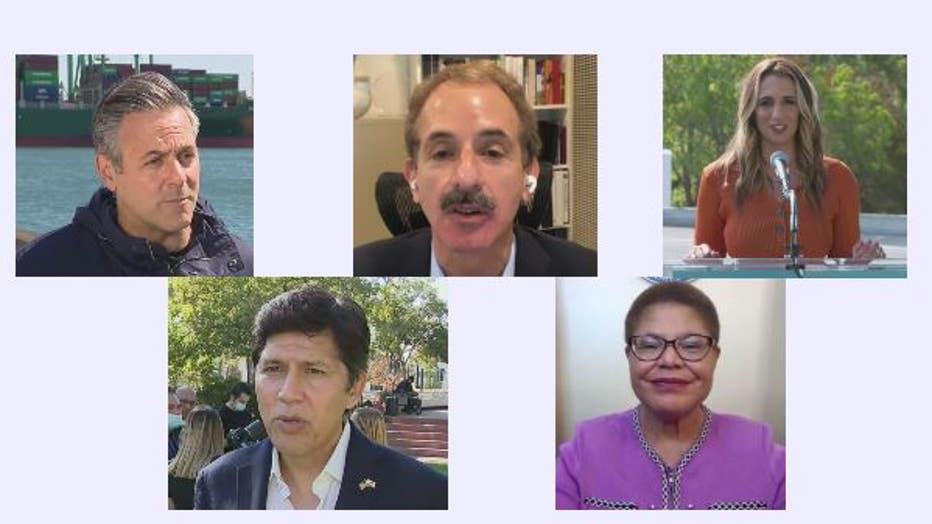 The event was held by The Stonewall Democratic Club. The Los Angeles chapter of the National Association of Black Journalists and The Minority AIDS Project were co-hosts. Stonewall Democratic Club members will vote to endorse a candidate on Dec. 20.
The candidates spoke about a variety of issues including rising crime against the LGBTQ community, affordable housing, police reform, water usage, and homelessness. 
"We need to provide temporary housing and I believe we can do that with existing properties. There is property that the federal government owns, state owns, city owns, county owns, we can building housing on that immediately. There is commercial units that we could renovate and put people, Project Roomkey, Project Homekey, taking over additional hotels, taking people off the street right away," said Bass.
"I'll create a strike team in City Hall and the 10 general managers who touch affordable and homeless housing and say 'if you want to keep your job you will cut the time it takes to sign and approve that housing'. I want to change our street engagement strategy so that we are able to say to someone who is experiencing homelessness 'we are here to offer housing and services to you, here is my iPhone this will demystify what this is for you but there is a choice date and you can't stay here,'" Feuer, explained.
"Let's get scale appropriate here, at best there is 60,000 to 70,000 people in the county of 12 million in a city of four million who are homeless... it's a football stadium. You are telling me that with all the billions of dollars we have and the decades of efforts we put into this, we can't solve a football stadium size problem in Los Angeles? Yes we can," added Greiwe.
"Housing is absolutely a key component of this. What we need to be doing is increasing the spectrum of housing, we have to build permanent supportive housing units, but we have to reduce the cost at over half a million. But what we have to be doing is creating more beds in safe places with resources people can get so we can move them of the streets to get the help that they need," Lall stated. 
Get your top stories delivered daily! Sign up for FOX 11's Fast 5 newsletter. And, get breaking news alerts in the FOX 11 News app. Download for iOS or Android.
Regarding climate change, Bass called it "existential crisis of our country, and said she wanted to involve the business community. "Can we have people work at certain times remotely?" she asked, citing the way it has helped during the COVID-19-related lockdowns.
This is the first of many forums to be held. 
The forum took place at 4 p.m. Sunday at the Minority AIDS Project at 5149 W. Jefferson Blvd., "in a hybrid online and in-person format in a Zoom meeting as well as simulcast from the Stonewall YouTube Channel and Facebook Page," organizers said.
Founded in Los Angeles in 1975, The Stonewall Democratic Club touts itself as "the home for progressive Democrats who are lesbian, gay, bisexual, transgender, and straight allies of the LGBT community." The group says it advocates for and encourages diversity, social equity, and inclusion.
The primary for the 2022 Los Angeles mayoral election will take place June 7, with the top two finishers squaring off in the general election Nov. 8.
Other candidates running to replace a termed-out Eric Garcetti include real estate agent Mel Wilson and entrepreneur Ramit Varma.
City News Service contributed to this report.
Tune in to FOX 11 Los Angeles for the latest Southern California news.