LA District Attorney Lacey slams controversial tweets allegedly from Gascón's public policy committee
LOS ANGELES - Los Angeles County District Attorney Jackie Lacey is slamming controversial tweets allegedly posted by members of the D.A.challenger George Gascon's public policy committee, which included anti-police remarks, support for the abolishment of prisons, and encouragement for protesters burn a city down.
The tweets were allegedly posted by Alisa Blair and TiffanyTownend Blacknell, two members of Gascon's Public Policy Committee, which was announced in a press release in January 2020.
In that release, Gascon's campaign described it as an "all-star committee" with a "treasure trove of brilliant individuals who contribute their time, ideas, and passion to our campaign to reform and modernize the Los Angeles County District Attorney's Office."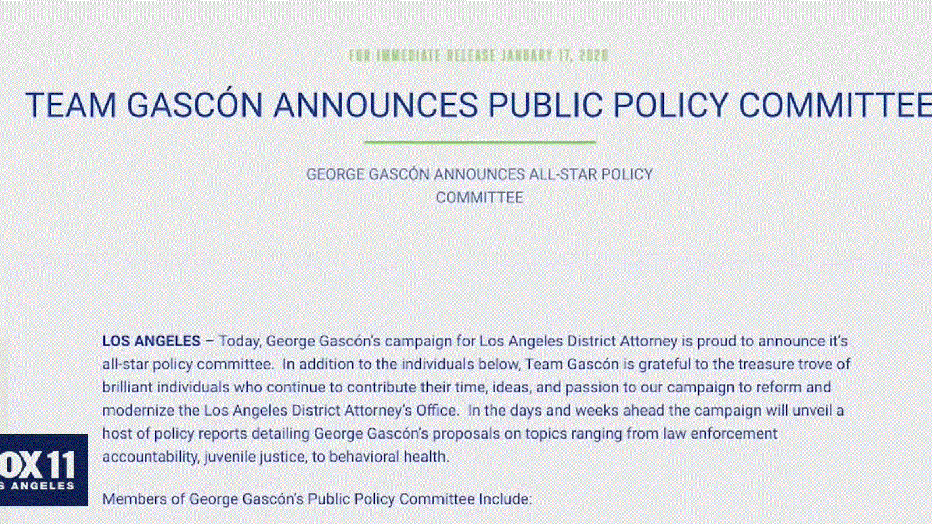 Now, tweets posted by the accounts belonging to Blair and Blacknell are under the microscope.
On May 29, during the civil unrest after the killing of George Floyd, Blair posted a tweet that said "Burn that sh*t down.  We must destroy in order to rebuild."
Get breaking news alerts in the FOX 11 News app. Download for iOS or Android.
On June 5th, in response to a video of LAPD engaged with protesters in LA's Fairfax District, Blacknell's Twitter account posted "Look at these barbarians! #LAPD is an occupying army! #DefundPolice."
On August 2nd, 2019, Blacknell's account posted "Prison is obsolete. We need to reimagine America without it," and her account has posted the hashtag #AbolishPrisons multiple times.
"I was stunned," L.A. County D.A. Jackie Lacey told FOX 11. "You shouldn't have anybody on your committee whose talking about burn it down, when the city is burning because of rioting and looting. The other tweet, abolish prisons? So where do rapists go? Where are people who murder going? Are these people going to inform the public safety policy for the LA County DA's office? They shouldn't!"
Neither Blair nor Blacknell responded to FOX 11's requests for comment.
Gascon's campaign told FOX 11 they have no comment, despite our repeated requests for a response.
Lacey herself has come under fire from critics who say she hasn't prosecuted enough police officers accused of misconduct, and for her husband's pulling of a gun on Black Lives Matter protesters at her home. 
But she is using the tweets to go on the offensive against Mr. Gascon, questioning his judgment and vetting process.
"I think they owe us a response, and when I say us, I'm talking about the voters of L.A. County," Lacey said. "We have a right to know what we're getting in a guy who wants to be the D.A. in the largest county in the nation."
Lacey's criticism comes on the same day Mr. Gascon won a huge endorsement from California's Governor, Gavin Newsom.
"The Governor Newsom endorsement is really not a surprise, he was his police chief, Governor Newsom did appoint him to be San Francisco D.A., so I'm not really surprised at this endorsement," Lacey said.
"I have faced odds like this in the past, I intend to continue to take my message to the voters and to the people in the community about how important it is to not just look at endorsements, but look at the character,the quality, the experience of the  candidate, and that's where I'm head and shoulders above this guy."
Mr. Gascon has recently racked up endorsements from some of the biggest names in the Democratic Party, including Kamala Harris, Bernie Sanders, and Elizabeth Warren.