Judge denies motion to drop special charges against accused cop killer in rebuke to Gascón directive
LOS ANGELES - In a rebuke to DA George Gascón's new directives, a judge on Monday refused to drop all special charges against an accused cop killer charged in the execution-style killing of an off-duty LA County Sheriff's deputy, and the murder of an innocent skateboarder.
Judge Jose Sandoval denied a motion put forth by a prosecutor under the direction of Gascón to dismiss all gun enhancements and special circumstances of multiple murders against Rhett Nelson, accused of murdering deputy Joseph Solano and Russian skateboarder Dmitry Koltsov in 2019.
RELATED: Sentence enhancements still on the table for alleged cop killer
"You have an obligation under [Penal Code] 1385 to demonstrate to this court that it's in the interest of justice, in fact, what the victims have told me today, it is not in the interest of justice in this court's opinion, the motion is denied," Judge Sandoval said.
"We were relieved today, this is justice that happened today," said Christina Solano, the sister of deputy Joseph Solano. "I didn't know which way it was gonna go, I was just praying Nelson is accused of shooting deputy Solano in the back of the head while he was off duty and waiting in line at an Alhambra Jack in the Box in 2019.
RELATED: DA Gascón's policy changes include dismissing special charges against accused cop killer
An hour before that, prosecutors say Nelson shot and killed Russian skateboarder Dmitry Koltsov in downtown LA. As part of new DA George Gascón's reforms, he had ordered his prosecutor to seek to drop all the special charges against Nelson, which would have given him an elderly parole hearing in 20 years at age 50 if the motion had been granted, and if Nelson were to be convicted.
FOX 11 was told Nelson had an outburst during the hearing causing Solano's son Matthew to respond.
Matthew Solano said, "I reacted impulsively to him just standing up, I don't care what he has to say."
Solano says he can't believe his dad's accused killer was being considered for lighter a potentially much lighter sentence under Gascón's reforms.
Family attorney Sam Dordulian says, "The evidence in this case, it was not in the interest of justice to do what Gascón has been attempting to do in all of his cases, blanket approaches simply don't work."
Before the murders police say Nelson used a gun to rob at least five convenience stores in San Diego County before driving up to Los Angeles.
As FOX 11 reported last week, San Diego DA Summer Stephan sent Gascón a scathing letter criticizing his policies and revoking her permission for Gascón's office to prosecute the San Diego charges.
Stephan said, "I did not want to pick this fight but I just can't be silent."
"I can't be an unwilling participant in kind of a mockery in what the law provides for victims' rights, I just can't do it," she said.
Stephan sent Deputy DA Martin Doyle to the hearing in LA on Monday to demand the San Diego charges be returned to San Diego.
Mr. Gascón's office previously told FOX 11 that even if the special charges were dropped Nelson would face at least 70 years in prison, but Doyle says that's dishonest.
"We think he made some misleading statements to media, he put out numbers like 50 to life, 70 to life, when in reality, this individual would be eligible for elder parole after 20 years, regardless of what the court sentenced him to," Doyle said.
An observer to all of this has been LA Sheriff Alex Villanueva who has been a staunch critic of Gascón's new policies.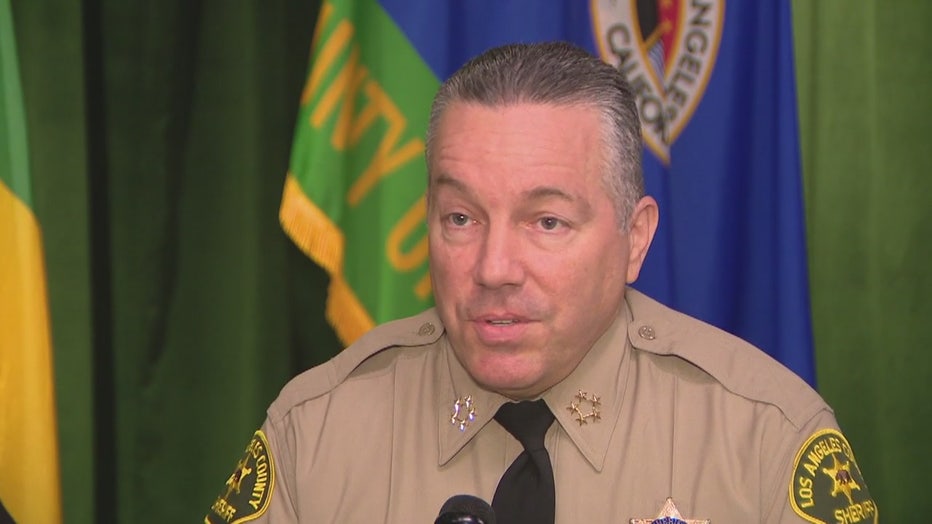 Villanueva tells FOX 11 that he met with the Solano family after Monday's hearing. "I'm definitely grateful for the judge for upholding the rule of law, and definitely looking out for the interests of victims of crime, in this case, it's one of our own, deputy Joe Solano."
The Solano family says Gascón has never reached out to them.
Gascón's office told FOX 11 on Monday they have no comment on this report.
Get your top stories delivered daily! Sign up for FOX 11's Fast 5 newsletter. And, get breaking news alerts in the FOX 11 News app. Download for iOS or Android.