Federal hate crime charges filed in shooting of 2 Jews leaving synagogues in Pico-Robertson
LOS ANGELES - Two federal hate crime charges were filed against the suspect accused of shooting two Jewish men just 24-hours apart as they were leaving their synagogues in Los Angeles' Pico-Robertson neighborhood, authorities announced Friday.
Jaime Tran, of Cathedral City, was charged with committing a hate crime by interference with federally protected activities and use of a firearm in a felony, according to a criminal complaint unsealed Friday.
Tran, 28, appeared in Los Angeles federal court Friday afternoon and was ordered to remain jailed without bail. Magistrate Judge Margo A. Rocconi scheduled his arraignment for March 9.
Tran is considered homeless and was a former dental student. He has a long history of threats against his Jewish friends. He was arrested in July for carrying a gun on the campus of Cal State Long Beach and was out on $30,000 bail when he committed the two shootings. 
He admitted to both shootings and even asked detectives if the men were dead. 
"The suspect was charged by the LADA with felony possession of a firearm on school grounds in July of last year. At the time of that filing, he had no previous criminal record and we were not made aware of any allegations of threats against the Jewish community. The matter is still pending," The LA County DA's Office said in a statement. 
The defendant was "motived by antisemitism," U.S. Attorney Martin Estrada said at a news conference in downtown Los Angeles. "Hate crimes have no place in our community."
If convicted of both charges, Tran would face up to life in federal prison, Estrada said.
Tran allegedly told agents that he searched for a "kosher" market on the social medial application Yelp. After locating a kosher market, Tran drove to the market and selected his victims because of their "head gear," he said, according to the complaint.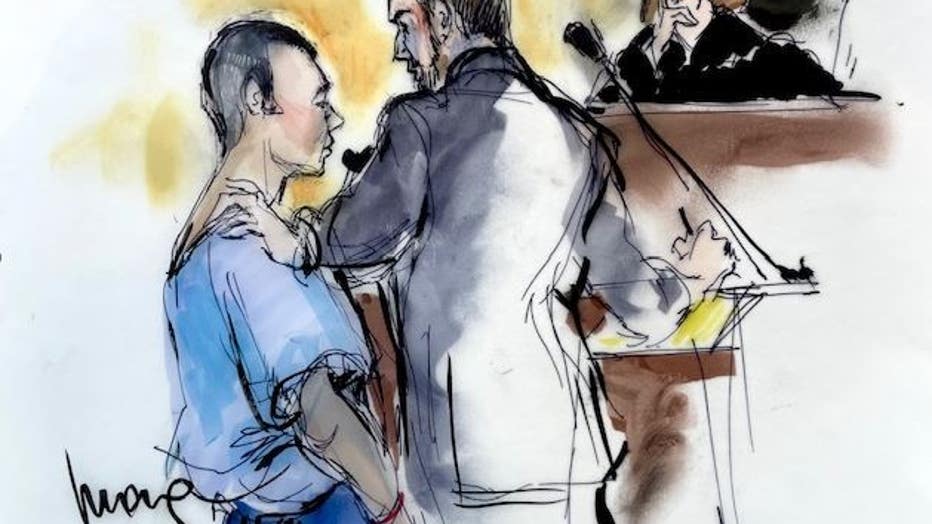 The suspect was tracked to an area in Riverside County and investigators began working collaboratively with federal and regional partners to locate him, police said. The suspect was arrested at 5:45 p.m. Thursday without incident, police said.
Detectives recovered several items of evidence including a rifle and a handgun, police said.
The Los Angeles Police Department told FOX 11's Phil Shuman that both of the victims were shot at from moving cars. 
The first shooting happened Wednesday just before 10 a.m. in the 1400 block of Shenandoah Street. The victim, a man in his 40s, was trying to get in his car when the suspect pulled up in an unknown vehicle and drew out his handgun, firing at the victim, police said. The victim was taken to the hospital for treatment of non-life-threatening injuries.
The second shooting happened in the 1600 block of S. Bedford Street around 8:30 a.m. Thursday, according to the LAPD. The victim was a male in his 70s who is currently in stable condition.
A community member who knows one of the victims said she believes the Jewish community is being targeted.
In response to the two shootings, Agudath Israel, an American organization that represents Haredi Orthodox Jews, said it is "greatly concerned over two shootings on consecutive days victimizing Orthodox Jews leaving their synagogues following morning prayers" and has been in contact with the LAPD and other local officials regarding the situation.
The Jewish Federation of Greater Los Angeles released a statement saying in part, "We have learned that the suspect has a history of animus towards the Jewish community and these incidents will be treated as hate crimes. As such, we are encouraged to also have learned that the U.S. Attorney will take the case and file federal charges on civil rights violations."
"These attacks against members of our Jewish community are unacceptable," Los Angeles Mayor Karen Bass wrote on Twitter, adding that her office is closely monitoring the situation and working with local community leaders to ensure the safety of all Angelenos.
Lili Bosse, the mayor of Beverly Hills, said that the Beverly Hills Police Department is placing extra security around houses of worship in the city after news of the two shootings.
Anyone with information was encouraged to contact 1-877-LAPD-24-7 (877-527-3247). Anyone wishing to remain anonymous should call the LA Regional Crime Stoppers at 1-800-222-TIPS (800-222-8477) or go directly to www.lacrimestoppers.org. 
CNS contributed to this report.