'I felt like I was on the timeline to my death': Local man speaks out after weekend protest ends in violence
LOS ANGELES - Deon Jones, a resident of Los Angeles, was out protesting most of last week and over the weekend, when he says he suffered injuries after being shot in the face with a rubber bullet by Los Angeles Police Department officers. 
He said he has faced violence at the hands of the LAPD several times, but not quite like Saturday night.
The round just missed his eye, and his temple, fracturing two bones in his face. His injuries sent him to the ER at Cedar's Sinai Medical Center and spoke about what he endured on Good Day LA.
Jones added that he was denied a "safe exit" from a protest on Friday night and instead, was arrested with a large group of protesters who were unable to disperse. He said during his arrest he was put on a bus "with no regard for social distancing from LAPD and no regard for our human dignity."
Jones shared that he feels betrayed by city leaders, including Mayor Garcetti, who tweeted his support for peaceful protests but then allowed LAPD to attack them. Instead of getting their voices heard, they were met with batons and rubber bullets.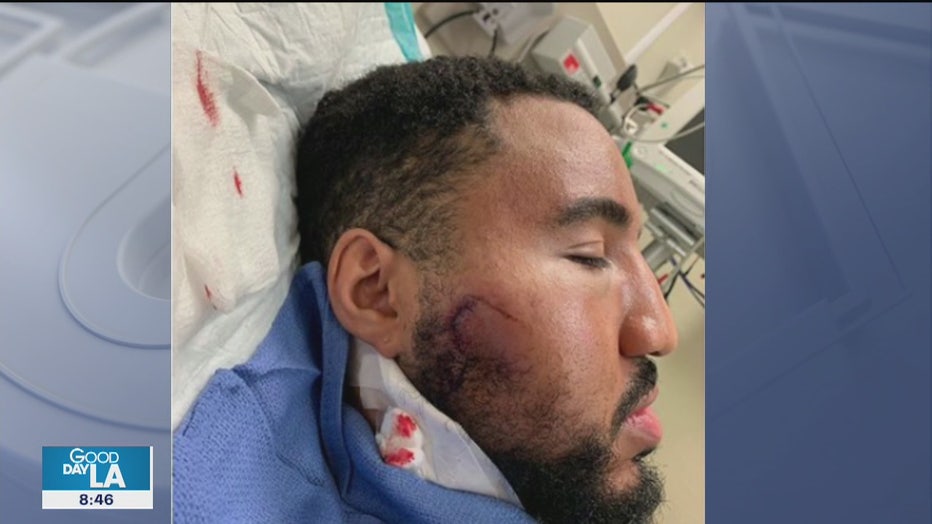 Still recovering from his injuries, he also had a message regarding Mayor Garcetti's announced budget for the police department, which has been increased, while other services will be cut due to Coronavirus impact. "What we need to see is strong leadership from the city and law enforcement officials...I think every citizen of LA should be raising their voices… and encouraging this mayor to find other ways to protect the community.
RELATED: Curfew issued for all of Los Angeles as Mayor Garcetti urges protesters to stop the violence
Jones has worked in the US Senate, and in the Obama White House, where he worked on criminal justice reform, labor issues, and President Obama's TechHire Initiative. 
Get breaking news alerts in the FOX 11 News app. Download for iOS or Android.