Hesperia triple murder suspect arrested in Mexico after nearly a year on the run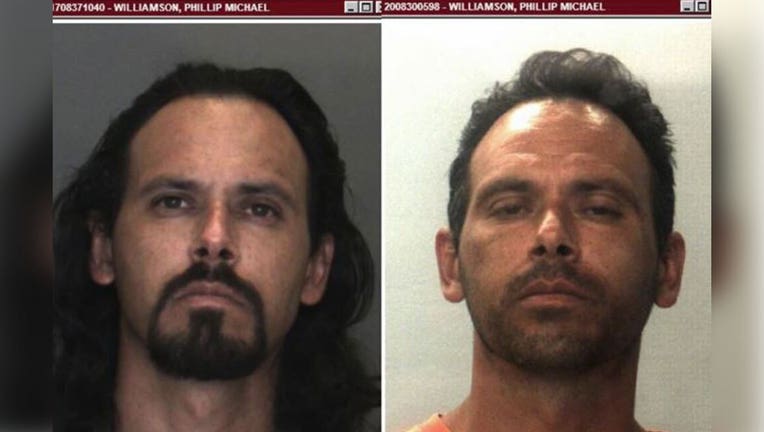 HESPERIA, Calif. - After nearly a year on the run, authorities arrested a Hesperia man wanted for a triple murder who was hiding out in Ensenada, Mexico. 
Phillip Williamson, 37, was arrested by the United States Marshal's Fugitive Task Force on Wednesday. He was transported to detectives at the United States/Mexico border and was later booked at West Valley Detention Center for murder.
Williamson is accused of killing a 35-year-old Brandi Jones, of Victorville, on August 30, 2019. Her body was found in her car that was abandoned in the desert in Apple Valley. He is also accused in the killings of Hesperia residents Melissa Graetz, 37, and Jason Culberson, 43, who were found dead inside a home on Sept. 3, 2019, according to the San Bernardino County Sheriff's Department.
RELATED:
• Manhunt underway for Hesperia man accused in 3 murders, arson, robbery
• Police searching for Hesperia man wanted for murder, robbery
Authorities said that after the suspect killed Jones on August 30, he confronted a man at a home on the 20000 block of Wisconsin Street, forcing the victim to give him several hundred dollars and a handgun. According to police, during the confrontation Williamson told the victim to look inside the vehicle he was driving, that's when the victim saw a woman's body partially hidden inside.
On September 9, 2019, investigators believe Williamson returned to the home where he had committed the strong-armed robbery, and intentionally set the home on fire. 
Investigators said that Williamson changed his appearance and shaved his head and facial hair. 
He is scheduled to be arraigned Friday.
Get breaking news alerts in the FOX 11 News app. Download for iOS or Android.