FOX 11 story helps Compton team travel to football championship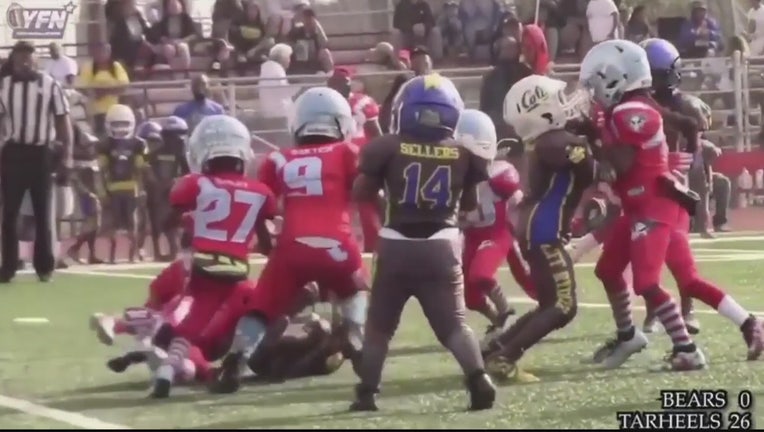 COMPTON, Calif. - As a FOX 11 story goes viral thanks to the help of some NFL stars helping a local youth football team in the process. An undefeated youth football team in Compton was trying to raise enough money to go to the national championship. They've got that money now and so much more!
It was all smiles for coaches and young players at an impromptu gathering near the football practice field at Compton High Monday afternoon. 
RELATED: Compton football team raising funds, hoping to get to championship game in Florida
Head Coach DeAndre Washington told FOX 11 'It's an understatement that we're happy. It's unbelievable. I didn't believe it was going to happen like this. I thought we'd get there but I didn't  know it would come like this. All the coaches and kids put in the work, all the help makes it much better.'  
'There' refers to Florida. The story originally aired on our 5pm news on Sunday we told you about Compton's Hub City Tarheels and their quest to take their undefeated team called the Dub City Tarheels in the King Conference to Florida to compete in what's called the 'Youth National Championships' next month against teams from all over the country. 
The challenge was money. The kids, mostly 5 and 6 year-olds, with help of their parents and volunteer coaches, started a GoFundMe page called "Hub City 6u Road to Florida" with only a few hundred dollars, and a donation goal of $15,000.
They were out at the Rams game near the Coliseum asking for help, then after FOX 11 aired it, and put on our station's website foxla.com and our social media sites, the response from the public was huge. 
49ers star Richard Sherman, from Compton wanted to help, sent in $5000 and by the time FOX 11 spoke with players and coaches mid- day it was at $ 24,000 and counting.   
It's a story about people's generosity, about people looking for positive news, and about the power of social media!  
Assistant Coach Davontee Ettress put it quite well when he told me  "Richard Sherman, that's a big thing. You know he comes from here.. him doing that contribution that's a good thing for boys who watch him, they look up to him."
Boys like Mario Rodriguez, who joined in a game of catch on the sidewalk as I was talking with his coaches. "You know you're going to Florida now " I asked him.  Yeah. What does that mean? It means so much to me."
"We're gonna work hard there and win there, get trophies and win," Rodriguez said.
I said "I hope you do" and we shook hands. "Thank you," said Mario.  
The Hub City Tarheels also stopped Good Day LA to share their excitement and give gratitude to all who contributed to their Florida trip.
Just One Station will continue to follow their journey. 
FOX 11's Leah Uko contributed.