Four school districts set to reopen for in-person instruction in Riverside County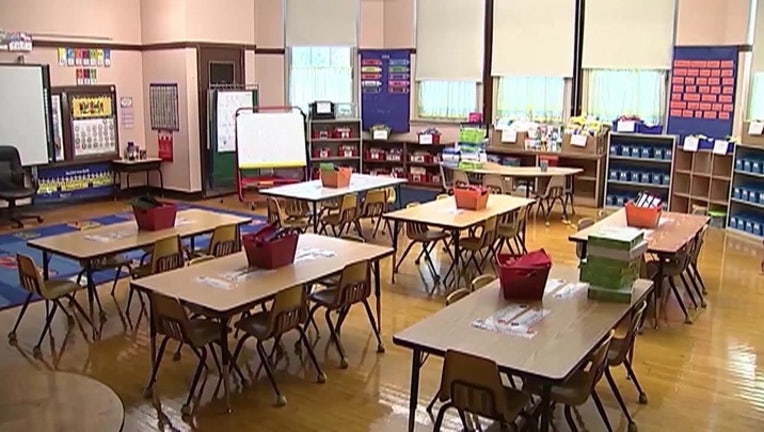 RIVERSIDE COUNTY, Calif. - Four school districts in Riverside County are set to reopen for in-person instruction with approved COVID-19 plans, officials announced in a statement Tuesday.
"In accordance with the California Department of Public Health's (CDPH) reopening framework and, as Riverside County remains in the state's purple tier, county schools and districts with approved COVID-19 prevention plans and checklists may reopen for the transitional kindergarten classrooms through sixth-grade education," the statement read.
RELATED: CDC says schools can reopen without teachers getting COVID-19 vaccine
"The pandemic has had a major impact on education, like everything else, and as case rates currently continue to decline we can start getting more kids back in class," said Dr. Cameron Kaiser, Riverside County's public health officer. "But this can't be without safety precautions or monitoring. Our districts and schools are committed to operating safely, and so am I."
RELATED: Local school districts react to CDC's announcement of reopening schools
A key metric for qualification is a countywide daily COVID-19 case rate of less than 25 per 100,000 residents, which the county now meets, officials said.
Four districts have already received county-level approval. Corona-Norco schools are scheduled to start in-person learning March 1 while the other three are awaiting final approval by the CDPH:

-- Corona-Norco Unified School District
-- Desert Sands Unified School District
-- Murrieta Valley Unified School District
-- Palo Verde Valley Unified School District.  
Corona-Norco received formal approval from the county and state in November to recommence in-person classes -- at all grade levels -- but the process was temporarily tabled when Gov. Gavin Newsom issued a statewide stay-at-home order on Dec. 6, which has since been canceled.  
Most public schools in the county have been conducting virtual classes since August.  
According to the Riverside University Health System, the waiver review process for reopening schools is available to all districts, and applications will be reviewed by a county assessment team on an ongoing basis.  
Parents are encouraged to check with their local school boards to see what plans and schedules are in the works.
City News Service contributed to this report.
Get your top stories delivered daily! Sign up for FOX 11's Fast 5 newsletter. And, get breaking news alerts in the FOX 11 News app. Download for iOS or Android.