SoCal heat wave to bring triple-digit temperatures through Wednesday
LOS ANGELES - Triple-digit temperatures are returning to some parts of Southern California again as another heat wave makes its way to the region in the coming days. 
The hottest temperatures are expected to peak Monday through Wednesday, according to the National Weather Service Los Angeles.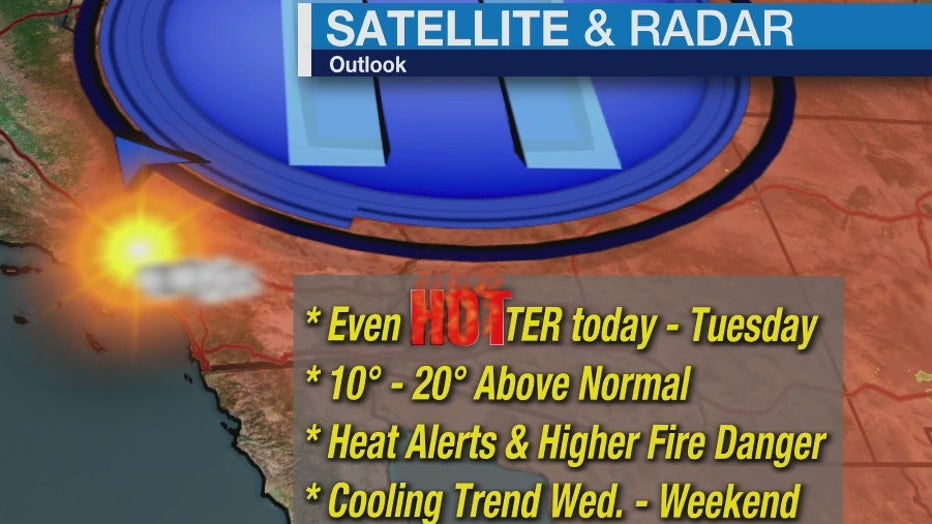 Excessive heat warnings and advisories were issued for inland areas through midweek, with maximum temperatures predicted to reach 103 degrees in foothills and valleys.
The National Weather Service said so-called sundowner winds around dusk on Monday and Tuesday could gust to 45 mph. The heat will elevate the risk of wildfires and the strong winds have to the potential to create erratic conditions for flames.
Temperatures in the mid-90s were possible throughout the Central Valley into inland Northern California.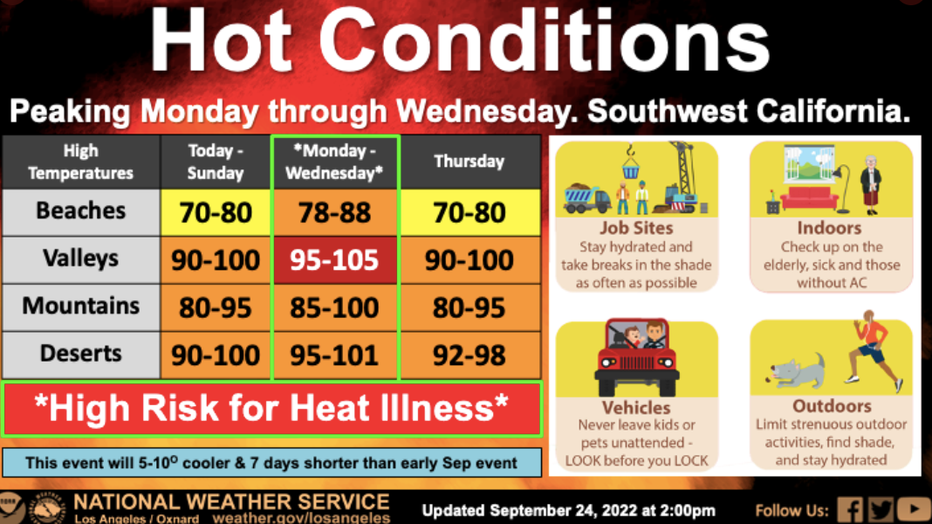 Graphic: National Weather Service Los Angeles
An Excessive Heat Warning remains in effect from 10 a.m. Monday to 8 p.m. Wednesday as dangerously hot conditions with temperatures between 98 and 105 degrees are expected for the following areas: 
Santa Clarita Valley
Los Angeles County
San Fernando Valley
San Gabriel Valley
"Extreme heat will significantly increase the potential for heat-related illnesses, particularly for those working or participating in outdoor activities," the NWS Los Angeles said.
It won't be as scorching as it was earlier this month, when California and some other Western states experienced one of the hottest and longest heat waves on record. Nearly 54 million people were under heat warnings and advisories across the region in the first weeks of September as temperature records were shattered in many areas.
People are advised to take the following precautions:
Drink plenty of fluids
Stay in an air-conditioned room and/or stay out of the sun
Check up on relatives/neighbors
Do not leave children and/or pets unattended in vehicles under any circumstances
Take extra precautions if you work or spend time outside
Reschedule strenuous activities to early morning or evening when possible
Know the signs and symptoms of heat exhaustion and heat stroke
Wear lightweight and loose-fitting clothing when possible
The Associated Press contributed to this report.