Some California counties pushed back to more restrictive tiers
SACRAMENTO, Calif. - As California coronavirus infections climb to nearly 1 million cases and the positivity rates continue to inch higher, 10 counties were told by the state to move into more restrictive tiers, meaning they'll have to readjust their business plans, worship services and school reopenings.
Prior to Tuesday's noon update, California counties braced for the fact that the state Health Department could push them back into a more restrictive tier, meaning they wuld have to readjust their business plans, worship services and school reopenings, accordingly.
Every Tuesday, the state updates its 58 counties' progress on a four-tier, color-coded system for reopening. The lower the cases and positivity rate, the fewer restrictions there are for businesses and certain activities in that county.
In the state's tier system that was introduced by Gov. Gavin Newsom at the end of August, the colors from most restrictive to least restrictive are purple, red, orange, and yellow. 
Last week, 10 counties were in the state's more restrictive tier, compared to 13 announced Tuesday.
"We know right now we must do more," Health and Human Services Secretary Dr. Mark Ghaly said. 
There were no changes in the greater Los Angeles area, but San Diego County found itself moving from the red to the purple tier.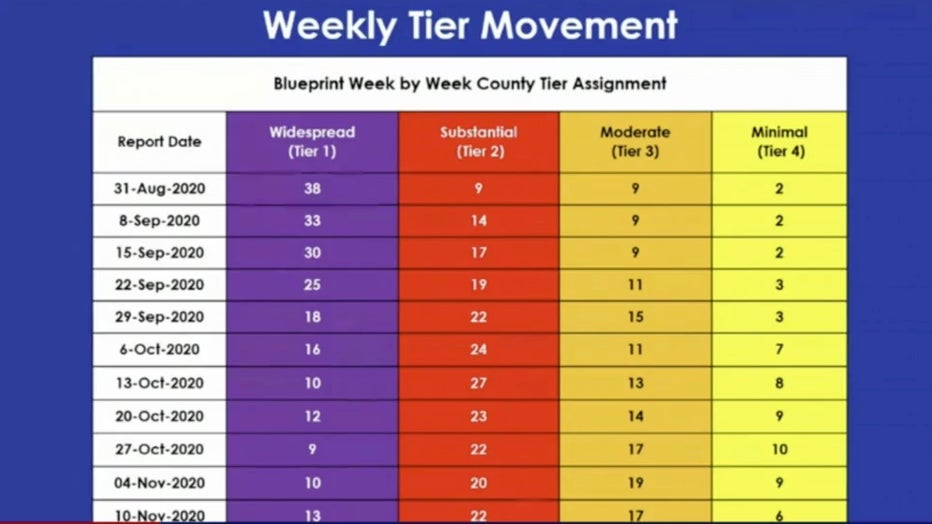 In Southern California, there has been a sharp rise in coronavirus cases in Los Angeles and Orange counties. 
Some anticipated that Orange County would move to a more restrictive tier with increasing case numbers. 
OC health officials reported 500 new COVID-19 cases Sunday, which is alarming considering the county hadn't seen over 400 cases reported per day since August. 
On Monday, health officials in Los Angeles County announced they are ramping up outreach efforts to help slow the spread of COVID-19. 
It was also revealed the communities with the highest COVID-19 cases include Pacoima, Sun Valley, Palmdale/Lancaster, East Los Angeles, and Van Nuys. 
RELATED: Outreach efforts ramp up as COVID-19 surge continues in LA County
Late last month, Riverside County was pushed back into the purple tier after temporarily being in the red tier, which has been grueling for businesses in the area.
RELATED: Some Riverside County businesses must close again as county moves back into most restrictive tier
Los Angeles and San Bernardino counties have remained in the purple tier since the color-coded system was introduced.
BUSINESSES FIGHT TO STAY AFLOAT
Over in Orange County, business owners tell FOX 11 it has been a tough year. Restaurant owner, Freddy Barajas, who runs Mariscos El Cangrejo Nice in Santa Ana, describes the complications.

"It's really hard. Just like I think about all of my employees, I think about my family too because we live off of the restaurant so it's really hard. When you feel that it's impacted where you can't even pay your own rent or bills, that really hurts you and all your family suffers too," said Barajas.

Barajas said his business was starting to improve while the county was in the red tier with indoor dining, especially with the colder temperatures.

"Now that it's windy, and it's started getting cold, nobody wants to sit out on the patio. It's very uncomfortable to sit out there with freezing cold [temperatures] and try to enjoy dinner," said Barajas.

State officials fear Orange County may move back into the purple, most restrictive tier as early as next week if cases don't improve.

"It was kind of a bummer when I heard that. Indoor dining for our restaurant is 90 percent so 90 percent of my sales is directly from indoor dining so that would really hurt us. We don't know if we'll be able to stay afloat, stay open or not," said Barajas.

Barajas has seen restaurants in his area close down from the pandemic.

"I've seen a lot of restaurants that are gone already because they were smaller restaurants than ours and they couldn't stay open with just take out orders," said Barajas.

Epidemiologist and Professor with the UCLA School of Public Health, Anne Rimoin, said Covid-19 cases are rising across the country.

"We are moving into a new surge of cases and we know how to reduce the spread of this virus. It's wearing a mask, social distancing, avoiding crowds, avoiding gatherings. In Los Angeles, Orange County, San Diego County, everywhere in California, we'll start seeing the same things if we don't take the right steps right now to reduce the spread of the virus," said Rimoin.

Rimoin pointed out how LA Mayor, Eric Garcetti, mentioned 10% of the recently reported cases included people who went to a gathering.

"If you're having a gathering of people, you may be unwittingly spreading Covid-19 and this is important as we move closer to the holidays," said Rimoin.

Rimoin said it's important for everyone to follow health guidelines.

"People are tired. I completely understand, but we really have to do the hard work right now. We know there's good news about potential vaccines but that's not happening in the near future so all we have are these blunt health measures to follow. We can avoid shutting things down if we do the right thing now, but it only gets harder as cases start to mount," she said.

Barajas is hoping Orange County will be able to stay in the red tier for now.

"We thought we were moving forward and then we hear that we're going a step back, it feels like we're never gonna get over this pandemic. Hopefully, 2021 will be better," he said. 
ACROSS CALIFORNIA
Closest to the San Francisco Bay Area, Contra Costa County and Santa Cruz County were moved from the "moderate" orange tier to the more restrictive and "substantial" red tier on Tuesday. 
Most of the Bay Area remained in the orange tier, the third least-restrictive tier of the four designated by the state.
San Francisco is the only Bay Area county in the yellow tier, the least restrictive one. Solano County is the only Bay Area county in the red tier.  Sonoma County is the only Bay Area county to be in the purple tier, the most restrictive one.  
 California hasn't seen the even more dramatic surges other states are experiencing but new figures are troubling.
RELATED: Stay up to date on all coronavirus-related information
Newsom said some of the increase could be tied to Halloween celebrations while the health director for Los Angeles County urged people who gathered during the weekend to celebrate Joe Biden's victory in the presidential race to quarantine to avoid fueling the spread.
The Associated Press and FOX 11's Kelli Johnson contributed to this report.